Mapp hails 'amazing' end to season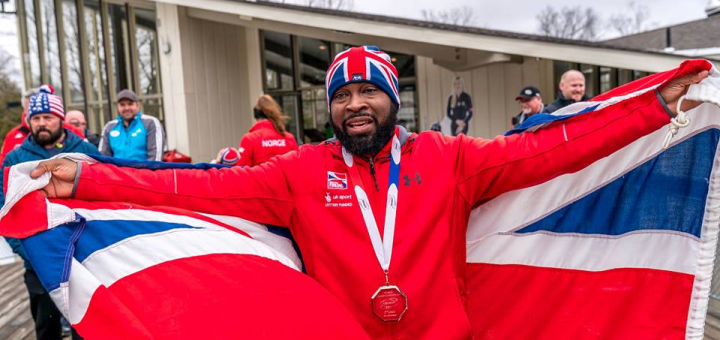 Corie Mapp has described the climax to the Para Bobsleigh season as 'amazing' after he won World Championship silver at the weekend.
Mapp finished the showpiece event of the year in Lake Placid in second place behind Canada's Lonnie Bissonnette to better the bronze medal he won at the Worlds in St Moritz two seasons ago.
The 40-year-old former British Army Lance Corporal, who lost both legs when his military vehicle ran over an explosive device in Afghanistan in 2010, finished an impressive 0.86 seconds ahead of the Norwegian athlete in fourth to secure a third top-level medal of 2019.
The podium place in Placid capped a superb six weeks for Mapp after he won overall World Cup bronze and he is understandably delighted to end the campaign on back-to-back highs.
"I'm really happy I could do everyone proud," said Mapp, who made his international debut in January 2015 and was the overall World Cup Champion in 2017/18.
It feels really good to win silver at the World Championships. It's been a long, hard season and I'm happy to have worked my way to World Cup overall bronze and now this result. 
"It's truly been an amazing end to the season. It's always an epic feeling to see the Union Flag fly and know you're the reason for that."
Rather than taking a well-earned break when he's back in the UK, Mapp will soon be turning his attention to summer sports.
Having first represented GB at the Invictus Games in 2014 - a year after playing volleyball for his country at the European Championships - he now has sights on a spot in the team for The Hague in 2020.
"Next on the agenda will be trials and camps for the Invictus Games over the summer as I miss volleyball and other summer sports," added Mapp. 
"I'll take some time off for family time over the summer but then the planning for next season will start as soon as I know the schedule. That's likely to be mid summer so I'll then be thinking about how I can perform better on all fronts, as always." 
Corie Mapp won World Championship silver in the final race of the season
Para Bobsleigh suffered the disappointment of learning the sport wouldn't be included in the Beijing 2022 Paralympics last September but that hasn't dampened the dedication and enthusiasm of those involved.
Mapp puts in a huge amount of time and effort to be the best he can be for GB but he is quick to praise those who continue to help him along the way. 
There are so many people who play their part and I'm very grateful to all of them. 
"I'd like to thank the BBSA for helping me to compete with them and Ian and Graham Richardson for always being there for me during the season. Ian and Graham have guided me and advised me on all things bobsleigh and they allow me to vent when I feel frustrated!
"Lee Johnston and Lamin Deen have helped me with admin such as race registration and then sled maintenance and storage; Blesma, the Household Cavalry Foundation and H4H (Help for Heroes) have been a continuous financial support; IBSF coaches Sarah Monk and Bree Schaff have been a massive help during the season; and my strength and conditioning coaches, Anna Greco and David Long at CrossFit Cirencester, have played a big part, too.
"I also want to say 'thanks' to anyone who's taken the time and effort to send messages of encouragement. All these people get me to the start line, for which I'm incredibly grateful."