Kim's win worth the wait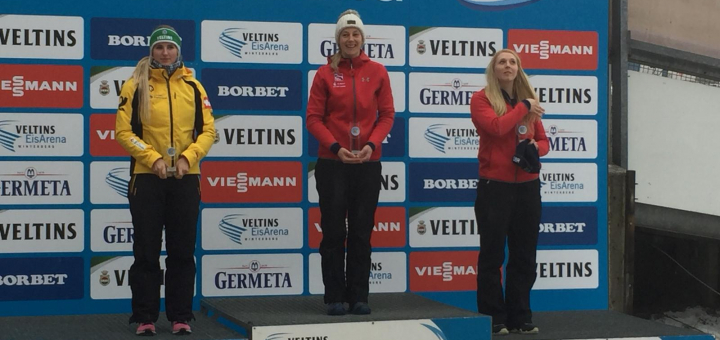 Kim Murray says her maiden international victory was everything she'd hoped for.
Murray won Europa Cup (EC) gold in Winterberg on Saturday, four years after she first earned selection for the British Skeleton programme.
The 30-year-old from the Isle of Wight beat four German sliders on their home track to claim her first win in 21 races and the former long jumper insists it was well worth the wait.
"I'm thrilled to have won the gold in Winterberg - my first race win!" said Murray, who had previously claimed a brace of bronze medals and the same number of silvers for her country.
It's been a while in the making but was worth the wait. To see the Union Flag raised for me was a really special moment and one I will never forget.
"When I won silver in Igls the week before, I said to myself that I wanted to go one better in Winterberg and I'm delighted I was able to do that. It's been great to have had a few consistent weeks of sliding, making the podium at each race. Winning silver in Igls gave me confidence that I could challenge for the podium again in Winterberg. I'm delighted I was able to upgrade to a gold.
"The whole team performed incredibly once again. It's been a great start to the season and I'm proud of the whole team."
Kim Murray has enjoyed a strong start to the new season
Next up for Murray is her debut World Cup race in Sigulda.
The British World Cup team are already in situ in Latvia ahead of the men's race on Saturday, December 8 and the women's competition a day later.
Having competed in the North American Cup and the Intercontinental Cup, as well as on the EC circuit, the sport's top competition marks a step up for Murray but, after seeing colleagues like Maddy Smith and Marcs Wyatt make the switch last season, it's one she is approaching with quiet confidence.
"I'm excited for what's to come over the next few weeks," added Murray.
It's been a consistent start to the season for me with a fourth, second and first in three races and I'm feeling confident going into my first World Cup campaign now.
"I'm looking forward to the challenge of the World Cup in Sigulda and then back in Winterberg the following week.
"I know it will be a step up in class but it's where I want to be and I plan to make the most of the opportunity."