Johnston pleased with trial turnout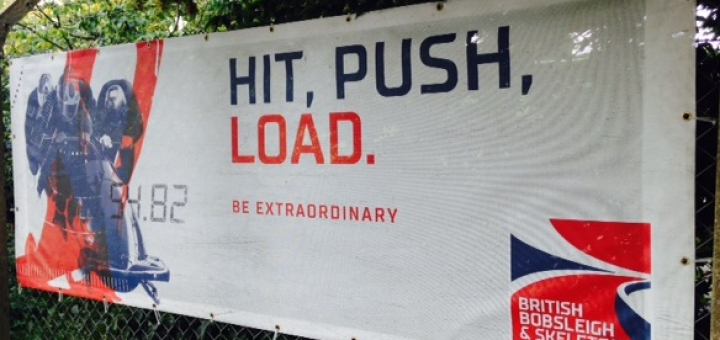 British Bobsleigh Head Coach Lee Johnston says he was 'delighted' to see such a strong turn out at Saturday's double trial session in Bath.
Johnston and his team held both adult and junior sessions at the University of Bath as they stepped up their summer recruitment for the Youth Olympic Games in 2020 and this coming season's World Cup campaign.
And, with a number of athletes making a real impression on the day, Johnston is looking forward to seeing how they could fit into the programme moving forward.
"We had a really strong turnout this weekend, and that's not something that you can take for granted in a minority sport like Bobsleigh," said Johnston.
It's great to see that, although we may have missed out on full funding for this Olympic cycle, Bobsleigh still holds a real appeal for lots of people.
"It was particularly pleasing to see young talented athletes wanting to get involved in our sport and I'm confident that we will be in a strong position to challenge for medals at the Youth Olympic Games in Switzerland in two years' time as a result.
"We've got a great record in Youth competition (GB won silver and bronze in 2012 and 2016 respectively) and those who came to Saturday's trial know that they could be next in line to try and keep that medal run going.
"There were a few athletes who really stood out on the day and we're excited to see them again in the coming weeks and months.
"It was a similar situation with the turnout for the senior trials: a couple of them showed they have the potential to go further in the sport."
Performance Coach Chris Woolley was heavily involved in Saturday's trials and he was quick to echo Johnston's thoughts on the Youth turnout in particular.
Woolley, who competed as a push athlete for Great Britain before moving into coaching during the Sochi Olympic cycle, admits that picking the right athletes at Junior level requires a high level of foresight but Saturday has convinced him they can unearth some more potential stars.
"Recruiting athletes for the youth programme is a tough ask because you have to find 14, 15 or 16 year olds who will be competing in an Under 18 competition in 2020," said Woolley.
"What those athletes look like now could be completely different to what they look like by the time we get to Lausanne in two years' time. We believe we have a good mapping strategy, though, and we have a history of recruiting the right athletes and then helping them become among the best in the world.
We were looking for speed, strength and power on Saturday, with power standing out above all else.
"We tested basic speed - because that is the ultimate limiting factor in moving a sled - and we then looked to see how much speed they dropped when they are given a load.
"We look for physical attributes first, and then it's down to Michelle (Coy-Martin, Youth Team Manager) and Lee to teach them how to drive a sled as the Youth Games is a monobob competition.
"Lee has managed the last two Youth Olympic programmes and we've done very well in those Games and Michelle is a really experienced pilot so they will be in good hands when they get to that stage."
With the International Olympic Committee having announced last week that Women's Monobob will be added the Olympic schedule for the 2022 Games in Beijing, Johnston and his team may also now hold another open trial for the senior squad in September.
"We are in the process of finalising an additional trial in the autumn on the back of the IOC's announcement, as this wasn't something we were made aware of before the decision was announced," added Johnston.
"The addition of monobob to the Olympics in China is something that could really generate some interest among female athletes out there so we'll have news on potential dates for a trial soon."