It's World Champs week!!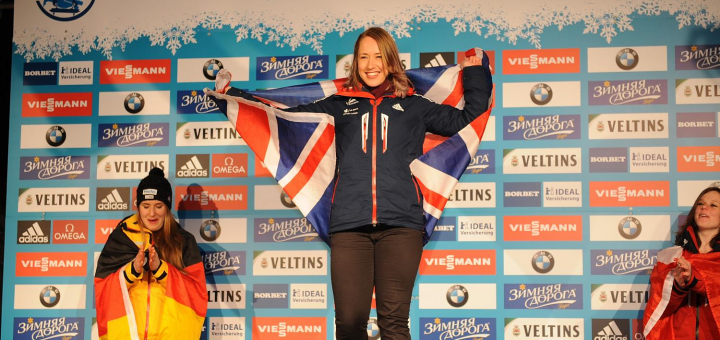 It's that time of year already: we're in World Championship week!
Last season's Winter Olympics in South Korea might only seem like yesterday but we're already on to the next global showpiece.
What is it? Where is it? Who's in it?
The World Championships is the major event of the bobsleigh and skeleton calendar in a non-Olympic year, with the 2019 event taking place in Vancouver, Canada.
The Whistler Sliding Centre plays hosts to the season finale some nine years after it welcomed the world's best to the Winter Olympics in 2010. Great Britain's Amy Williams won the nation's first skeleton gold medal in those Games and similar success for either sport this time around would be an equally impressive achievement.
The schedule sees the women's and 2-man bobsleigh take centre stage this Friday and Saturday, before skeleton joins the party the following Thursday and Friday. The 4-man bobsleigh then brings the curtain down on the season on Saturday and Sunday, March 9 and 10.
Mica McNeill, Brad Hall and Lamin Deen pilot British Bobsleigh sleds, with Laura Deas, Ashleigh Pittaway, Madelaine Smith, Jerry Rice, Jack Thomas and Marcus Wyatt going for GB in the skeleton events.
Deas arrives in Whistler on the back of a World Cup bronze medal last week, while McNeill was so close to a medal herself when finishing fourth in Altenberg in January and Wyatt was fifth in Calgary four days ago.
And Whistler holds happy memories for McNeill, Deen and Hall, as well, with McNeill and Hall bagging wider podium places in 2017 in a race meet that saw Deen, Toby Olubi, Andrew Matthews and Ben Simons set a world record speed of 97 mph on the way to winning a stunning World Cup silver medal. 
British Bobsleigh enjoyed a great weekend in Whistler last season
Where can you watch it?
You can follow all the action via the International Bobsleigh & Skeleton Federation website and YouTube channel, with the competition kicking off with the 2-man bobsleigh at 1am on Friday.
IBSF World Championships: race schedule (all times are GMT)
Fri 2 Mar
Men's 2-man Bobsleigh 1am
Women's Bobsleigh 7.30pm
Sat 3 Mar
Men's 2-man Bobsleigh 1am
Women's Bobsleigh 7.30pm
Sun 4 Mar
Team competition 12am
Thurs 7 Mar
Men's Skeleton 5pm
Women's Skeleton 8.30pm
Fri 8 Mar
Men's Skeleton 5pm
Women's Skeleton 8.30pm
Sat 9 Mar
Men's 4-man Bobsleigh 1am
Sun 10 Mar
Men's 4-man Bobsleigh 1am
How have we done in the past? The Brits at the World Champs…
Recently retired double Olympic Champion Lizzy Yarnold claimed bronze at the last World Championships in Konigssee in 2017, two years after she won gold in Winterberg. 2006 Olympic silver medallist Shelley Rudman also won gold in St Moritz in 2013, a year after Yarnold had claimed her first bronze in Lake Placid. Williams, meanwhile, won silver in Placid in 2009, eight years after Olympic bronze medallist Alex Coomber had done the same in Calgary.
Kristan Bromley is the only British man to have won skeleton gold after taking the crown as part of his trilogy of World Cup, European Championship and World Championship titles in 2008. Adam Pengilly's silver the following year is the most recent medal for the British men, with Latvia's Marcus Dukurs winning gold in five of the last six World Championships.
Kristan Bromley won gold for Great Britain in 2015
Current British Skeleton coach Eric Bernotas won silver for the United States in 2007, while former Performance Director Andi Schmid won the title in 1993 and picked up three silvers between 1990 and 1994.
In the women's bobsleigh, Nicola Minichiello and Gillian Cooke were World Champions in Placid in 2009, four years after Minichiello had won silver with Jackie Davies in Calgary. 
In the men's bobsleigh, Great Britain's best recent result came courtesy of Bruce Tasker and Joel Fearon when they finished fourth in the 2-man in Igls three years ago. That result was Britain's best 2-man performance for fully 50 years following bronze for Olympic Champs Tony Nash and Robin Dixon in 1966.
Nash and Dixon are one of two 2-man teams to have won World Championship gold for Great Britain - they were victorious in 1965, 28 years after Frederick McEvoy and Bryan Black won the title in Cortina. 
McEvoy also won 4-man gold in 1937 and again in '38, as well as silver in '39. Dennis Field piloted the nation's first World Championship medal winning sled, taking bronze at the second ever event back in 1931.
In more recent times, Lamin Deen finished fifth in the 4-man event with Tasker, Matthews and Simons in 2015, the same position that John Jackson, Tasker, Fearon and Stu Benson placed two years earlier.
GBR were fifth in the 4-man race in Germany in 2015