IOC Award for Andi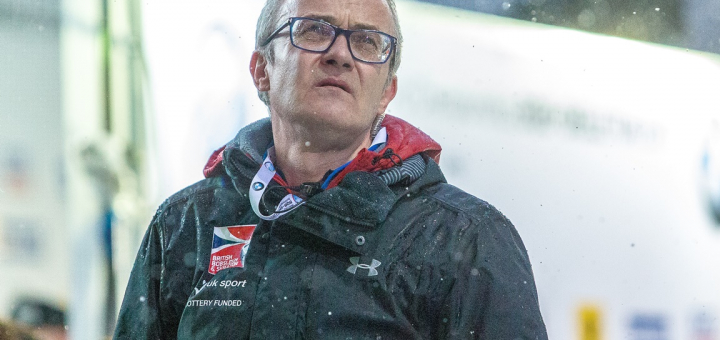 A stellar year for British Skeleton continued in Argentina overnight as former Performance Director (PD) Andi Schmid received a Coaches Lifetime Achievement Award from the International Olympic Committee (IOC) at the Olympism in Action Forum, a two-day event in Buenos Aires, focused on building a better world through sport.
Schmid led his team to a hat-trick of medals at February's Olympic Winter Games in PyeongChang as Lizzy Yarnold defended her Olympic title and both Dom Parsons and Laura Deas won bronze for Great Britain.
The former World Champion also guided GB on to the podium at the four previous Olympics in Sochi, Vancouver, Turin and Salt Lake City, having previously played a key role in ensuring the sport's return to the Olympic Family in 2002.
The IOC Coaches Lifetime Achievement Award is given every year to one female and one male coach every year and is an initiative of the IOC Athletes' Entourage Commission to raise awareness about the athletes' entourage and recognise the important role coaches play in supporting athletes on the road to their sporting dreams.
Schmid was chosen from 98 nominations from 38 countries submitted by National Olympic Committees, International Federations, Olympians, members of the IOC Athletes' and Athletes' Entourage Commissions and IOC Members.
"I am hugely honoured, and very grateful, to receive this award. I see it as further recognition of the work of the whole British Skeleton programme and the success we have achieved together. The Olympics have given me and my team so many happy memories and this is another one of those," said Schmid.
British Skeleton have had so many highlights since the sport was re-introduced to the Olympic family and I'm very proud to have shared them with such a hard-working, dedicated and exceptional group of athletes and support staff.
"It was always my dream to compete at the very top of the sport as an athlete but I didn't have the opportunity to go to an Olympic Winter Games as I had retired before 2002. The sport has made so much progress since then and it is wonderful to see Skeleton thriving in the Olympic programme. Long may it continue."
He was named Coach of the Year by the British Olympic Association at last month's Team GB Ball and his latest accolade arrived just under eight months after he celebrated that famous triple medal success in South Korea and two months after he formally stepped down from his role as PD.
And, just as he did with previous awards, Schmid was quick to thank others for their part in his success.
"I have had so much support over the years and there are simply too many people to say 'thank you' to," added Schmid.
"As well as all the team - past and present - at British Skeleton, plus UK Sport, the BOA, EIS and all our partners, I need to say a special thanks to my family and friends, particularly my two daughters. They have all been a constant support and have lived every moment with me. I know my parents will be looking down with a smile."
"The recognition for Andi is reward for the life-long dedication he has given to the sport of skeleton," said BOA Chairman Sir Hugh Robertson.
"There are many athletes who have benefitted from his experience, knowledge and passion. He not only embodies the Olympic Values but those of Team GB and it is a proud moment for the organisation and the country as a whole to see Andi recognised today."