Hall sees plenty of potential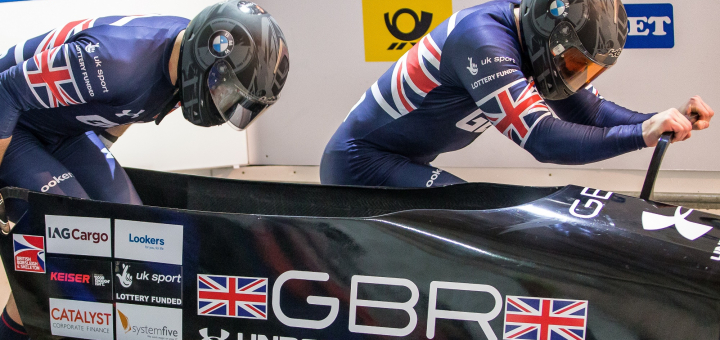 Brad Hall suffered the ultimate disappointment when a crash curtailed his maiden World Championships as a 4-man pilot but the 26-year-old can see plenty of potential on the path to Pyeongchang.
Hall saw his hopes of mixing it with the medalists come to a premature end on Saturday afternoon when his sled overturned in the chicane coming out of Kreisel in the latter part of his second run in Konigssee.
The crash came with Hall and his crew having recorded the fourth fastest split and the top speed of the run to date, stats that suggest GB would have been jumping up from the promising 13th-place position they occupied at the end of Run 1.
Throw in the fact that Hall had only just returned from a significant hand injury and that his crew clocked the fourth and fifth fastest starts despite having not competed together as a team previously, and it's easy to see why Hall can see the positives ahead of next year's Winter Olympics in South Korea.
"It was a massive disappointment. Seeing our World Championships end that way was obviously very frustrating for us all. It's not what any of us wanted and it's doubly disappointing given how well we'd been doing in training," said Hall, who teamed up with Bruce Tasker, Joel Fearon and Greg Cackett in Germany.
"But there are a huge amount of positives to take from this week and the last few weeks altogether.
"We had six training runs and didn't finish outside the top four; I've just come back from a serious injury; I'm still really new to the 4-man; and the crew we had has only been together for six runs. We were only a hundredth of a second off the start record before the racing started and we were in the top five starters in both race runs.
"This is my third season of driving bobsleighs but I've only had half a season driving a 4-man. I've only had about 50 runs and I'm competing against guys who had hundreds or thousands of runs. To come down 13th in the first run off a start draw of 28th, was pretty pleasing and it was something we wanted to build on.
There's still a huge amount of potential there. We're mixing it with the best in the world off the back of a relatively small amount of practice together.
"It's our first week of competition together; it was Bruce's first week of going in at No2; and Greg's in his rookie season. We're a very tight-knit crew. We all came together physically and mentally and it's been a great crew to work with.
"There's definitely a lot to look forward to. Pyeongchang next year is our main target. When we get there, I'll be a lot more experienced and I won't make the same mistakes that I have here."
Brad Hall, Bruce Tasker, Joel Fearon & Greg Cackett showed plenty of potential
Hall will get a peak at the Pyeongchang track later this week when he and his team-mates head out for international training prior to the final World Cup of the season there on the weekend of March 17-19.
The former decathlete will be driving both 2-man and 4-man sleds in South Korea, with Bruce Tasker piloting the other 2-man sled and Lamin Deen at the helm of the second 4-man team.
The two disciplines require definite differences in driving techniques and Hall is keen to get accustomed to the subtleties of Olympic track as soon as possible.
"We get our first look at the track on South Korea this week and that's the main thing on our list this year: learn how to drive the track and get a good result there," added Hall.
"A 4-man sled is longer and heavier than a 2-man. That means it's difficult to get around the tight bends, especially on a track like Konigssee.
"Because it's heavier, there's a bit of a delayed reaction. You steer and nothing happens but then, all of a sudden, it starts to move. It's harder to make a mistake because of the weight but, when you do make a mistake, it's harder to correct it.
If I'd have made that mistake in a 2-man sled, I probably would have been fine but in a 4-man I couldn't recover from it.
"I'll learn a lot from that disappointment and I honestly believe it can make me a better driver for the future. We've got to move on from that now and going out to Pyeongchang gives us the perfect opportunity to do that."