Hall hopes to build on brilliant silver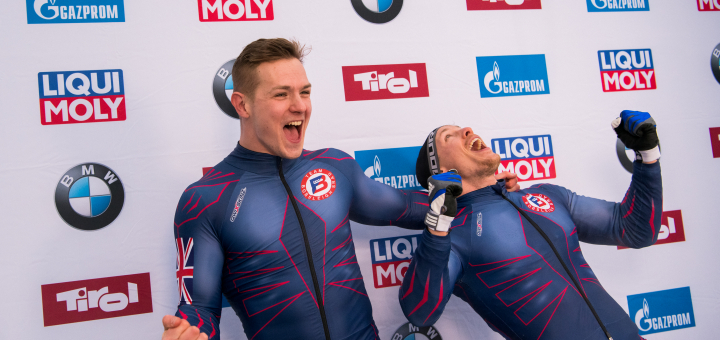 Brad Hall hopes Saturday's stunning silver medal can be the catalyst to further success this season, starting in Konigssee tomorrow.
Hall's podium place alongside Greg Cackett in Igls last week was the country's first piece of 2-man silverware on the World Cup circuit since the 1980s and it further boosted his hopes of being in the mix for a medal at the next Olympic Winter Games in 2022.
It followed four successive personal bests in the 2-man event and came just seven days after the same pair just missed out on a medal by finishing fourth in La Plagne in the fourth race of the World Cup campaign.
Hall is refusing to get carried away with the magnitude of his achievement, especially given that he has missed part of this week's training due to illness, but he insists he's more than happy with the progress he and his team are making on the path to Beijing.
"Winning that silver medal was definitely a big confidence boost - it reminded us that we're on the right track," said Hall, whose previous medal on the World Cup circuit came in the 4-man event in Park City in November 2017.
"It was obviously a great feeling to be on the podium with the Union flag raised, especially after we just missed a medal the week before.
We're not naive enough to think that the hard work is done, though. We've made lots of progress but this has to be just the start, really.
"We want to be competitive every week - we've done that over the last five or so races - and we don't want to drop off now.
"That's going to be hard this week as I've been ill and missed training runs and because we're on a German track and going up against three really good German teams, but we know it's important to try and keep the momentum going.
"We want the other teams to view us as a threat - and that's in the 4-man as well as the 2-man."
Hall finished 12th in the 4-man in Igls alongside Cackett, Luke Dawes and Taylor Lawrence, with Lamin Deen, Olly Butterworth, Ben Simons and Toby Olubi placing 10th.
That result was Deen's first top ten of the World cup season and the double Olympian goes in both the 2-man and 4-man again this weekend.
Lamin Deen's 4-man crew were 10th in Austria
Deen and Ryan Letts start 23rd of 26 sleds in the 2-man race at 2pm on Friday, with Hall and Cackett 14th off the top. The start lists for Sunday's 4-man race are yet to be released.
The women's race kicks off the bobsleigh action in Konigssee as Mica McNeill and Montell Douglas go for GB from 11am on Saturday. 
The British pair sat out last week's World Cup race in Igls due to illness and they've again missed out on training time on the ice this week for the same reason.
McNeill, who was sixth with Douglas in Konigssee just over 12 months ago, starts third in a 17-strong field that features a trio of German sleds who have all won World Cup gold so far this season, as well as World Cup points leader and double Olympic gold medallist, Kaillie Humphries.
Mica McNeill is back in the mix after missing last week
Race Schedule
All times are GMT
Sat 25 Jan
Women's Bobsleigh 11am
Men's 2-man Bobsleigh 2pm
Sun 26 Jan
Men's 4-man Bobsleigh 12.30pm