Hall happy with EC path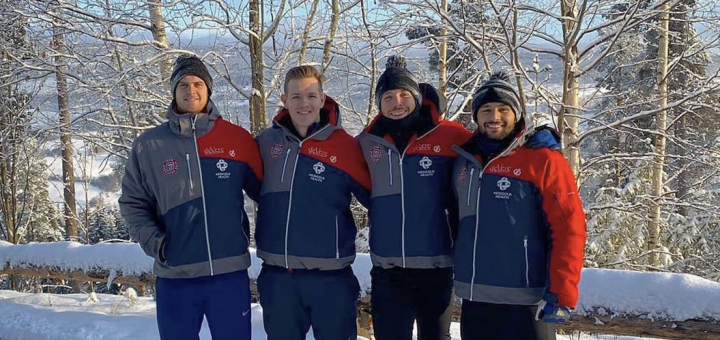 Olympian Brad Hall believes his decision to swap the World Cup for the Europa Cup at the start of new bobsleigh season will pay dividends in the long run as he looks to kick on from his historic success at last season's World Championships.
Hall equalled the country's best World Championship 2-man result for more than half a century when he finished fourth alongside Nick Gleeson in Whistler in February.
It was a result that hadn't been bettered since GB's only Olympic gold medalists, Tony Nash and Robin Dixon, made the podium in Cortina way back in 1966 but it wasn't enough to secure UK Sport funding for the coming campaign.
That change in status to an unfunded sport is part of the reason why Hall and his crew aren't travelling to North America for the first two legs of the World Cup season but it isn't the full story. While cost saving is now a key consideration, Hall is convinced that devoting his time to three weeks of solid training in Norway, followed by Europa Cup (EC) competition in Lillehammer, Altenberg, Winterberg and then Konigssee this side of Christmas will give him the best chance of building on last season's progress come 2020.
"We finished on a high last year and we want to follow that path this season. We all think that this is the best way for us to do that," said Hall ahead of Saturday's season opener.
If we had headed out to America, it would have cost us thousands and thousands of pounds just to freight the equipment even before we started thinking about all the other associated costs. We would have had to travel around the tracks and wouldn't have got as many runs, whereas here we're getting three weeks solid training on the same track in Lillehammer to begin with.
"That gives us confidence when we're testing equipment and we hope that it will pay off when it comes to generating speed. 
"We're going to Altenberg next and that's where the World Champs will be held so it'll be good to get some quality time there ahead of February. We've effectively got four races in a row in November and December and we'd have got half that on the World Cup.  It should make us more prepared for when the World Cup gets back to Europe after Christmas."
Brad Hall and co have been training in Lillehammer this month
It's been nine months since the team were out on ice at the World Champs but any initial doubt about picking up where they left off was quickly put to bed once they arrived in Lillehammer.
And that long spell away from the ice hasn't led them to shy away from setting targets for the season, either: Hall wants to be in contention for EC medals before ensuring they find the consistency on the World Cup circuit that saw them bag four personal bests in a row at the end of last winter. 
"It's a long time to wait between the end of one season and the start of the next and you always question whether you'll remember what you're doing or not but you're back into the swing of it in next to no time once you get started," added Hall.
"I tend to pick these things up pretty quickly and it doesn't take me long to get back the feeling for the sled, thankfully, and that's how it's been here in Norway.
We've got the same 2-man sled we used at the World Champs - so that helps - and we're looking to build from that result. We were really consistent in the 2-man in the second half of last season and we want to keep that consistency now on route to the World Championships in February and the Olympics in 2022.
"We've got new kit in the 4-man this year as well and we're confident with the team we've got there, too, so I won't be prioritising one discipline over the other. I want to be world-class at both, not just at one. We got our best results in the 2-man last season but there's no reason we can't emulate that in the 4-man as well.
We want to medal in as many races as possible in both 2-man and 4-man on the Europa Cup but we're also using these races to get ready for the World Cup in the New Year.
"We need to get used to our new equipment and get as many runs as we can under our belts as a team. When we get back to the World Cup, we really want to hit the ground running.
"We're also moving our focus away from just the World Championships: instead of using that as our milestone, we want to use the World Cup as that gauge and target as well. I'm not someone who really feels the pressure at a big race but it's good to have another focus rather than just thinking that one competition will make or break us. Psychologically, it's better for us as athletes to focus on getting that consistency throughout the season rather than focusing on one race - and finding that consistency starts on Saturday."
Sam Blanchet (l), Luke Dawes (second l) and Alan Toward (r) are out in Norway
Hall goes in 2-man action with Sam Blanchet, who returns to the team after a year out, at 9am GMT on Saturday before joining up with Blanchet, Alan Toward and debutant Luke Dawes for the first 4-man race exactly 24 hours later.
We'll post race results on our social media channels and on our website, with a full round up to follow.
Fellow Brits Lamin Deen and Mica McNeill and their crews won't feature in Norway as they are currently training in Konigssee before the following week's action in Altenberg.