Hall 17th at halfway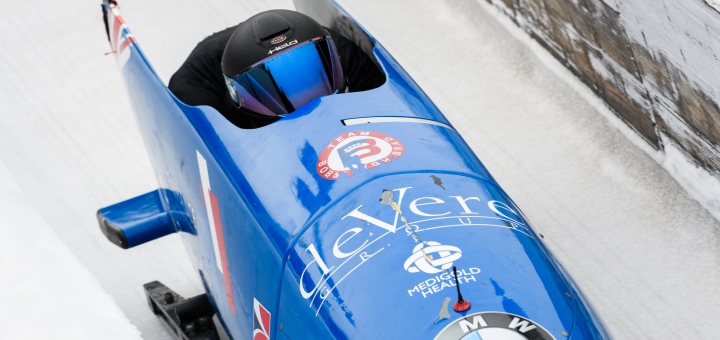 Brad Hall and Greg Cackett sit 17th at the halfway stage of the 2-man bobsleigh World Championships after a tough first day in Altenberg.
Having won World Cup silver in Igls last month and finished fifth in the overall IBSF world rankings, Hall and Cackett had hoped to be in contention for a top six spot in Germany.
The leading British pair clocked 54.92 seconds to sit 13th after the first run, before a 55.20 effort second time around saw them drop four spots on arguably the most technical track on the circuit.
Team-mates Lamin Deen and Ben Simons are currently 25th ahead of tomorrow's third and fourth runs.
Deen, who favours the 4-man event above the 2-man, was 26th in Run 1 in a time of 55.85 seconds and then improved by one position after clocking 56.07 in the second run.
Lamin Deen is 25th ahead of Run 3
Germany's Francesco Friedrich is on course for his sixth successive 2-man World Championship crown after he broke the track record in Run 1 and then produced the fastest time of Run 2.
The reigning 2-man and 4-man Olympic Champion hasn't been beaten in the 2-man event at the World Championships since 2012 and it already looks highly unlikely that anyone will break that remarkable run this time around.
Friedrich's individual dominance - he leads by almost a second - was matched by his country's national success on Saturday as the top four sleds in the field were all German.
Nico Walther is closest to Friedrich in second; Johannes Lochner is third; and Richard Oelsner fourth; with Latvia's 4-man World Championship silver medallist from last season, Oskars Kibermanis, the highest-placed non-German in fifth.
Runs 3 and 4 take place tomorrow at 1.30pm GMT.
The 4-man race is scheduled for next Saturday and Sunday.