Great start for Micas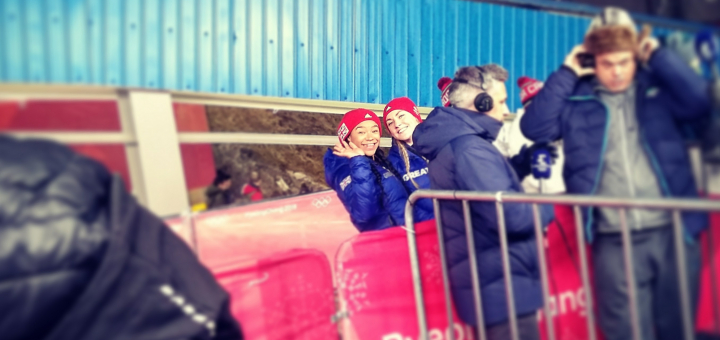 Mica McNeill and Mica Moore enjoyed a strong start to their maiden Olympic campaign as they ended day one in sixth spot in the Women's Bobsleigh.
The British pair finished ahead of a whole host of more experienced teams to leave themselves within touching distance of equalling their best-ever top-level finish of joint fifth.
McNeill and Moore, who won the Junior World Championships in January 2017 in their first season competing together, clocked 50.77 seconds off a 5.52 start time in Run 1 despite an unfavourable start draw of 17th of 20 sleds.
They backed that up with a second run time of 50.95 from a 5.53 start to end the first session 0.46 seconds behind leader Mariama Jamanka from Germany.
Reigning Olympic Champion Kaillie Humphries of Canada is only 12 hundredths ahead of McNeill and Moore in fifth, with Jamanka's team-mate, Stephanie Schneider, occupying the final medal position just 16 hundredths of a second clear of the Brits.
"We're over the moon with the first two runs. It's a four-heat race, though, so we've still got a lot to focus on," said McNeill, who won a Youth Olympic silver medal with Jazmin Sawyers in Innsbruck in 2012.
"We said before we got here that we just wanted to enjoy it. We worked so hard to get here, so that's what we're doing.
We've had so much fun so far and we want to carry that on for the third and fourth run.
"We're brand new to this track so we're still learning and there's a couple of bits to improve on. We've got more in the tank for the start definitely and there's a few little bits to tidy up on the drive."
"It's very tight at the moment and anything can happen," added Moore, who was part of the Wales 4x100m relay team at the 2014 Commonwealth Games in Glasgow before taking up bobsleigh.
"I trust in Mica and she's a brilliant driver so I knew she would put a good marker down today. We're going to give it our all tomorrow, enjoy it and see what happens."
Runs 3 and 4 take place tomorrow at 11.40am GMT.