Gold again for Mica & Monty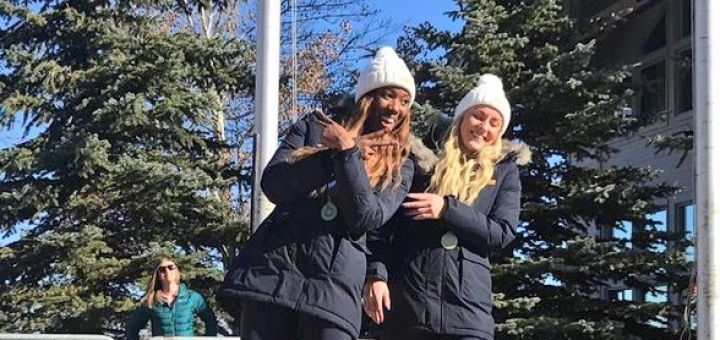 Mica McNeill and Montell Douglas made it two golds in as many days with a second success in the United States.
The British pair backed up Monday evening's opening win in Park City with an even more clear cut North American Cup success at the same venue on Tuesday afternoon.
McNeill and Douglas finished more than half a second ahead of the silver medal crew from China and an incredible 2.46 seconds in front of the Australian team who finished fourth.
Their combined two-run time of 1 minute 40.67 seconds was similar to their winning effort less than 24 hours earlier, with their first run time of 50.06 seconds identical to the same run the day before.
Victory now means McNeill has won three NAC gold medals in her career and has finished in the top three on 13 occasions.
In the men's 2-man races, Brad Hall and Adam Hames just missed out on a bronze medal as they finished fourth, in 1 minute 38.74 seconds, 0.17 seconds behind the Swiss team in third.
Lamin Deen and Axel Brown joined their team-mates on the wider podium as they placed sixth of 25 sleds in a time of 1 minute 38.87, just 13 hundredths behind Hall and Hames.
"It was another solid race day and I'm a happy coach," said British Bobsleigh Head Coach, Lee Johnston.
Back-to-back gold medals is great to see, so a big 'well done' to Mica and Montell.
"All the crews made small improvements on the whole and I'm really pleased to see that. Now bring on the 4-man!"
There is more NAC bobsleigh racing today, with back-to-back 4-man competitions taking place at 4pm and 8.30pm GMT in Park City.