GB women 11th at halfway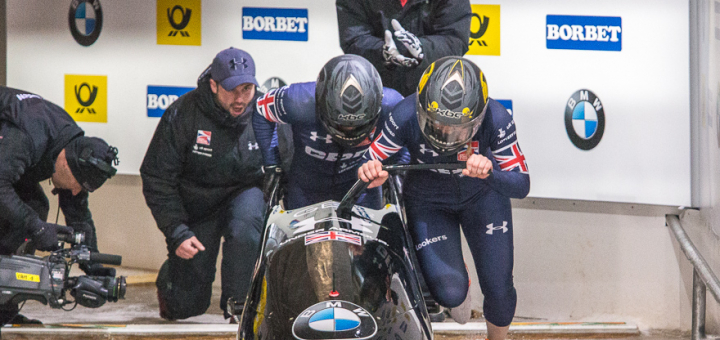 The first day of the World Championships in Germany ended with Great Britain in 11th place in the women's bobsleigh.
Mica McNeill and Mica Moore clocked a combined time of 1 minute 43.77 seconds in the first two runs of the four-run competition in Konigssee.
The British pair sat seventh after a strong first run of 51.84 seconds but slipped back into the pack after a slower second run in the rain.
Just a quarter of a second separates sleds seven to 14, although the gap at the top is even tighter as America's Elana Meyers Taylor leads Canada's Kaillie Humphries by just two hundredths of a second, with Jamie Greubel Poser only three hundredths further back.
"Run 1 was really pleasing and just the kind of start we were looking for on what is a tough, technical track," said GB Bobsleigh Performance Director, Gary Anderson.
"Run 2 didn't go as we would have liked but the good thing about the World Championships is that the four-run format means we still have a chance to make up for that.
"It's a pretty bunched field at the moment so there is still the potential to climb back up, although that obviously also means we have sleds hot on our heels going into Run 3.
"If Mica and Mica can produce a strong time in Run 3 then Run 4 will be a very exciting finish and we're confident they can hit their target of a top-ten place."
Mica Moore and Mica McNeill are just outside the top 10 after two runs
The women's race restarts at 1.15pm GMT on Saturday, with the 2-man action kicking the day off at 9.30am. Both the women's and men's races are live on the BBC website and the BBC Sport app.
GB will have two sleds in the 2-man race, with Bruce Tasker and Joel Fearon looking for another successful World Championships after last year's fourth-place finish in Igls - GB's best 2-man World Champs result for half a century.
Brad Hall pilots the second British squad, with former England Sevens player Sam Blanchet his brakeman in his first season with the squad.