GB Bobsleigh win World Cup bronze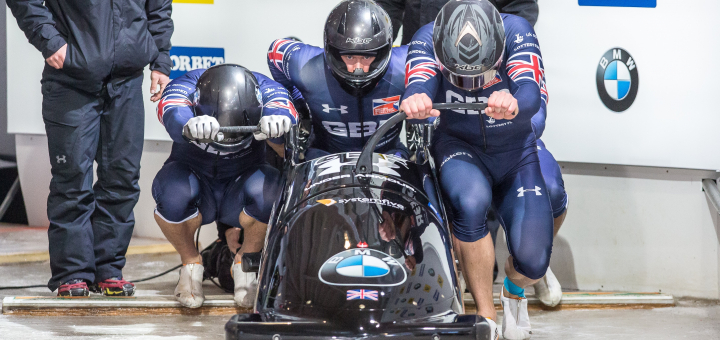 GB Bobsleigh won 4-man bronze in Park City in the early hours of Sunday morning as Brad Hall guided the country to a first World Cup medal in four years.
Hall, Bruce Tasker, Joel Fearon and Greg Cackett became Britain's first Bobsleigh World Cup medalists since John Jackson won silver alongside Tasker, Fearon and Stu Benson in Lake Placid in December 2013.
Before that, you had to go back to 1997 to find another British Men's Bobsleigh medal on the World Cup circuit, with that success coming when Sean Ollson guided GB to bronze in La Plagne the season before he won the same colour medal at the Nagano Olympics.
Hall's medal wasn't the only reason to celebrate on Sunday, either, as Lamin Deen, Ben Simons, Toby Olubi and Andrew Matthews ensured history was made when they took the final spot on the wider podium with a sixth-place finish in Utah.
"I genuinely believe this is a true reflection of how this team is," said GB Bobsleigh Head Coach, Lee Johnston.
"We have some of the best athletes in the world; we have two top drivers who are providing competition for each other; the mood is excellent and there is a great camaraderie in the camp.
"We had an awful day on Friday in terms of Brad missing the cut in the first race of the weekend so for him and his crew to bounce back says a huge amount about their character.
We've still got work to do but we're definitely making progress. One swallow doesn't make a summer but this is a big step towards where we want to be come the Olympics.
"I've been in the sport a long time and this is a pretty special day for the team. I've always believed we could get two teams in the top 10 and these results have gone a long way to showing what's possible."
The GB sleds celebrated together at the end of a thrilling race
Hall, Tasker, Fearon and Cackett - who raced together for the first time at February's World Championships and hadn't competed together since - produced start times of 4.80 and 4.79 seconds as they finished just 12 hundredths of a second behind race winner Johannes Lochner of Germany in 1 minute 35.56 seconds over the two legs.
It marked a stunning turnaround for Hall after he missed the cut in the first of the double races on Friday night / Saturday morning when finishing 22nd on the same track. The former decathlete, whose first winter sports experience came with skeleton rather than bobsleigh, shaved an incredible 1.7 seconds of his Race 1 time when he completed his opening run of Race 2 in 47.37 seconds to lead at the halfway mark.
The 27-year-old only had four World Cup outings as a 4-man pilot to his name prior to this weekend, with his previous best being an eighth-place finish at the Olympic Test event in Pyeongchang in March of this year.
Deen, Simons, Olubi and Matthews sat eighth at halfway having been the 12th of 24 sleds off before they produced the third best time of Run 2 to move up two more places in the final standings.
They clocked an overall time of 1 minute 35.67 seconds off the back of 4.85 and 4.82 second start times to improve on the eighth-place finish Deen, Simons and Olubi secured with Fearon on Friday night / Saturday morning.
In the Women's Bobsleigh on Friday night, Mica McNeill & Mica Moore placed 13th in tough conditions as Jamie Greubel Poser won gold for the host nation.
World Cup (Park City, USA). 4-Man Bobsleigh: 1 J Lochner (GER) 1m 35.44 (47.60 & 47.84); 2 C Bascue (USA) 1-35.49 (47.54 & 47.95); 3 B Hall (GBR) 1-35.56 (47.37 & 48.19); 6 L Deen (GBR) 1-35.67 (47.67 & 48.00)