Fifth for Weston at Junior Worlds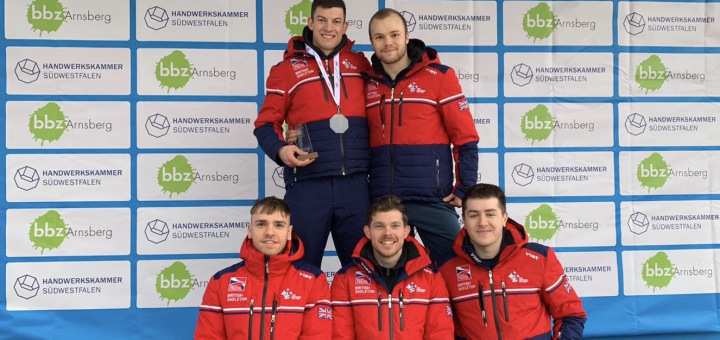 Matt Weston finished fifth at the Junior World Championships on Saturday as his fine first season of competition continued out in Germany.
Weston clocked a combined time of 1 minute 53.31 seconds to miss a medal by less than three tenths of a second at the U23 event in Winterberg.
The 22-year-old former weightlifter and England taekwondo international only started sliding for Great Britain in December but he was only beaten by a trio of German sleds on home ice and a Ukrainian World Cup regular who went to the last Olympic Winter Games in 2018.
The result followed a superb World Cup debut for Weston last week when he finished 13th on the top circuit in St Moritz.
"It's another good result for me and I'll take a lot of confidence from it," said Weston, who won a silver and bronze medal on the Europa Cup circuit last month.
I'd had a good week of training so I was hoping I could make the top ten, and I've done that and a bit more.
"A medal would have been great but I'm happy with how I performed and I see it as another step forward. It's good to be getting some rewards for the work I've been putting in.
"This season is my first competing for Great Britain and the last few weeks have gone better than I could have expected: I've won medals on the EC circuit, made my World Cup debut; and finished in the top five at the Junior Worlds, so there's lots to be happy about.
"It's all part of building the foundations for my goal of getting to an Olympics but I definitely feel like I'm making progress. And I'm loving it, too!"
Weston, who is from Sevenoaks in Kent, sat fourth at the halfway mark in Winterberg, 0.26 seconds from top spot and just one hundredth of a second from a bronze medal.
He was racing against far more experienced sliders, with the title eventually won by reigning champion Felix Keisinger a week after the German took World Cup sliver in St Moritz and a fortnight since he bagged World Cup bronze in Konigssee.
Silver medallist Felix Seibel made his international debut more than three years before Weston, while bronze medal winner Fabian Kuechler has been racing for Germany since 2014. And Vladyslav Heraskevych, who finished fourth, has already made 22 World Cup appearances, in addition to finishing 12th at the Olympics in PyeongChang two years ago.
"It's a really strong result for Matt and it's another reminder that he's on the right track," said Danny Holdcroft, Head of Talent for the British Skeleton programme. 
The Junior World Championships is a good benchmark to assess the effectiveness of our talent programme and for our U23 athletes to gain some major championship exposure. There were some really experienced sliders in the field so to finish top five is a very solid effort. 
"Matt's now put together a number of really good, consistent performances in a row on the Europa Cup, World Cup and the Junior Worlds and that's really good to see. It's exactly the type of progress we look for."
Matt Weston made the wider podium in Winterberg
Fellow Brit Laurence Bostock finished 16th in a field of 32 sliders in a time of 1 minute 54.55 seconds.
Bostock became Great Britain's youngest ever male athlete on the World Cup circuit when he placed 23rd in Moritz eight days ago and he again showed he can compete with more seasoned sliders in Winterberg.
Like Weston, the 20-year-old from Derbyshire is in his first season of competitive sliding and Holdcroft believes experiences like Saturday will be invaluable in his development.
"Laurence has shown lots of potential at various points in his debut racing season," added Holdcroft, who has been part of the British team set up since 2005 and has seen a whole host of talented youngsters come through the system.
While we don't set performance targets at events like this so early in their careers, we expect athletes to keep moving on an upward trajectory and Laurence has done that over the last couple of weeks in particular.
"This has been a great experience for him and it will add to that bank of knowledge that we want him to build over the next few seasons as he aims for an Olympic spot in 2026."