Ellie retires on a high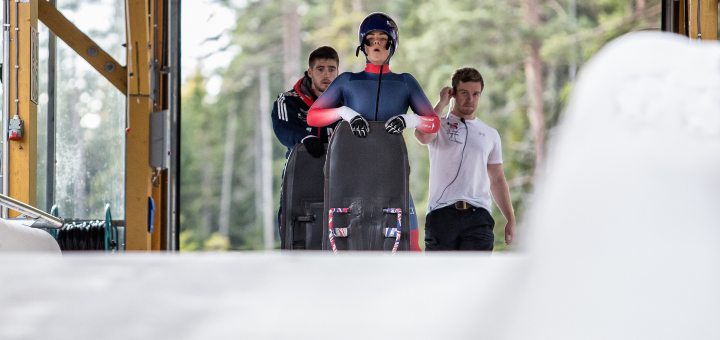 Ellie Furneaux insists she is 'finishing on a high' despite her injury-enforced retirement from skeleton.
The 25-year-old won overall Europa Cup bronze for Great Britain last season but has now had to call time on a promising career after doctors explained they would not be passing her 'fit to slide' following a head injury 13 months ago.
And while Furneaux admits that the news has taken time to sink in, she is glad she was able to show her true potential in British colours having won a hat-trick of gold medals in just six races last season.
"It was definitely tough to hear as I'd worked so hard in the hope of getting back but it's good to know that I finished on a high," said Furneaux, who was injured in Germany in January 2018.
"I didn't want to give up and I thought that retiring was giving up. But it was a medical decision and it had to be made.
"Last season was going so well for me before the injury - it was the best season I'd ever had. I was injury-free for the full season until that point and sliding was going well. I was really positive and everything was looking really good.
"Even though I had a DNF (did not finish) in the penultimate race and then couldn't race in the last one, I still came third overall on the circuit. It was a big step from the year before when my best result was a 13th - the same position that ended up being my worst result last year.
I had come such a long way in such a short space of time and I was really optimistic and hopeful about where things were going. I was hoping that would be the start of my Olympic journey.
"Even though it hasn't turned out that way, if I hadn't have won those races then it would almost have been more of a disappointment when it came to having to stop. Rather than being deselected, I'm leaving knowing I'd shown my potential."
Ellie Furneaux (centre) won three gold medals last season
Hearing the national anthem played in her honour was an undoubted career highlight for Furneaux - one that very few athletes can claim to have experienced whatever their sport.
The former sailor admits those three occasions over a month-log period at the end of 2017 were particularly special and something that will stay with her forever, even though they didn't sink in at the time.
"That did give me goose bumps," added Furneaux.
When I was on the podium, I didn't really believe it. It was only afterwards when I was watching the videos and sending them home to my family that it really hit me that it was really me! Looking back now, it does make me happy to see that I did achieve that success.
"When I came back with medals and trophies, it was really exciting. I'd use them as pencil pots or vases and I thought, 'I might as well use them as I'll hopefully get some more of these'. It's tough to know that I won't get any more but it's definitely good to know that I was capable of winning races."
And it's not just knowing that she's been successful that has made it a little bit easier coming to terms with her retirement, either: Furneaux knows that she gave it her all to get back and that takes away some of the 'what ifs'.
"I can say that I've tried everything and we've given it a good go and there wasn't really anything more we could do.
"To get to where I am now compared to where I was is a big step forward but I still didn't think it was the right decision to try and go back and slide.
"The toughest thing was calling my mum after the decision had been made because it suddenly became real. I never really accepted it until I had to say it to my family. It really hit me again when I went through my kit bag. It was then that I really realised that I'm not going to get back on a sled.
"The support I've had from the team has been really, really good, though. I've had doctors calling me and seeing me regularly and I've being seeing staff and coaches in the office.
"It's been hard because my friends have been away on circuit doing skeleton but it's been made easier with having a good support network here. That's been amazing. The support has been unbelievable and I would have struggled without it, to be honest."
Ellie raced 11 times for GB having previously been a sailor
"It's always disappointing when an athlete has to retire and it's especially disappointing given that Ellie was clearly making real progress," said Natalie Dunman, Interim Performance Director for British Skeleton.
Ellie really shone last season and had shown her potential. She should be really proud of her achievements and I hope she will be able to look back on them with a smile.
"Off the ice, Ellie has been a great ambassador for the sport. She carried herself brilliantly, whether that be with school children, sponsors or members of the public, and everyone here would like to say a big 'thank you' to Ellie for all her efforts during her time with us."