Deen's crew go for GB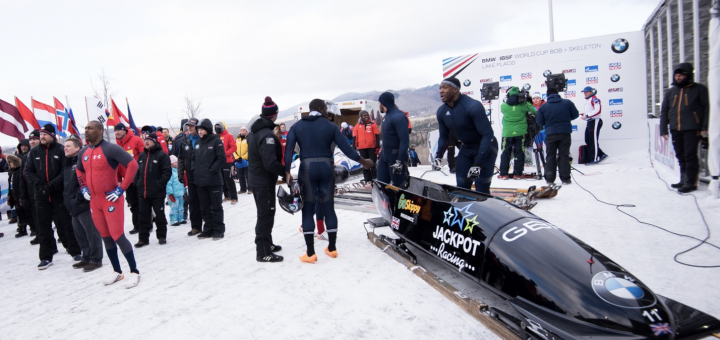 Lamin Deen will lead the British involvement in this weekend's Bobsleigh World Cup action as Brad Hall and Mica McNeill continue their World Championship preparations in Whistler.
Deen will compete in both the 2-man event on Saturday and the 4-man on Sunday in what is the final World Cup race of the season.
The 2014 and 2018 Olympian made his first World Cup appearance of the season in Lake Placid last week, finishing 13th in the 4-man with Ryan Letts, Tremayne Gilling and Toby Olubi and 21st in the 2-man with Letts.
Deen will shortly name his teams for Calgary, a track on which he won a brace of bronze medals in North American Cup competition in November. The last time Deen was in Canada for a World Cup race, he won an historic 4-man silver in Whistler in November 2017, while the last time the World Cup came to Calgary he finished fifth in the 4-man in December 2014.
Saturday's 2-man action begins at 8.30pm GMT, with the 4-man starting exactly 24 hours later.
McNeill joined Deen in racing in Placid but has opted to miss Calgary and head across Canada to Whistler for extra track time ahead of the season's showpiece event.
'We're not racing this weekend as we want to spend more time in Whistler getting ready for the World Championships," said McNeill.
It's been a good World Cup year with some really strong results but we always wanted to peak in Whistler and we think this is the best way to do that.
"It's a good chance to get more runs on that track and hopefully it means we'll give ourselves the best possible chance of putting in a good performance next week.
"Now is also a good time for us to say a massive thanks to the partners who have backed us this season - we're really grateful for that support. Big thanks in particular to our headline sponsor DHL, who've been amazing."
Hall also sits out Saturday and Sunday's races for the same reasons as McNeill as he, Joel Fearon, Nick Gleeson, Ben Simons and Alan Toward continue their own preparations for the Worlds.
RACE SCHEDULE:
Fri 22 Feb
Women's Skeleton 9.30pm*
Men's Skeleton 10.30pm*
*1st run Women's Skeleton, 1st run Men's Skeleton; 2nd run Women's Skeleton, 2nd run Men's Skeleton
Sat 23 Feb
Women's Skeleton 4pm
Women's Bobsleigh 7.30pm & 9.45pm*
Men's 2-man Bobsleigh 8.30pm & 10.45pm*
Sun 24 Feb
Men's Skeleton 3.30pm
Men's 4-man Bobsleigh 8.30pm
*1st run Women's Bobsleigh, 1st run 2-man Bobsleigh; 2nd run Women's Bobsleigh, 2nd run 2-man Bobsleigh
All times are GMT