Deas wins in Winterberg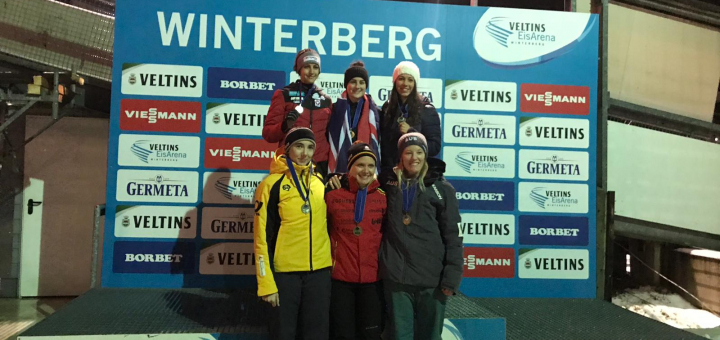 Olympic medallist Laura Deas won her first international race since November 2015 when she triumphed in Germany on Friday afternoon.
Deas, who won bronze in the sport's showpiece event in South Korea in February, claimed top sot in the third Intercontinental Cup (ICC) race of the new skeleton season in Winterberg.
The 30-year-old beat Austria's Janine Flock - the athlete she pipped to the podium in PyeongChang nine months ago - by three tenths of a second, with ex-German and now Czech Republic slider Anna Fernstaedt finishing third.
Deas won back-to-back silver medals in the first two ICC races of the campaign in Innsbruck last week but the win in Winterberg was her first since she beat the field in the first World Cup race of the 2015/16 season in Altenberg.
Fellow Brit Ashleigh Pittaway was fourth, just three hundredths of a second outside the medals after clocking the second quickest time in Run 2.
Brogan Crowley placed 14th in a 25-strong field.
Marcus Wyatt joined Deas among the medals a little later in the evening as he took bronze in the men's event.
Wyatt won silver and gold in Igls last time out and he now has a full set of ICC medals this term after placing third behind Seunggi Jung and Kilian Von Schleinitz in a time of 1 minute 53.29 seconds.
The 26-year-old former American Footballer won the British Selection Race in Winterberg in October and he was second and third quickest of 28 sliders in his first and second runs respectively on Friday.
Team-mate Craig Thompson, who won the opening ICC race in Austria eight days ago, finished tied for eighth.
There is more action from Winterberg on Saturday, with Crowley, Deas, Pittaway, Thompson and Wyatt all going again in ICC Race 4 at 1pm GMT, after Kim Murray, Jerry Rice, Maddy Smith, Stefan Squire, Hannah Stevenson and Philippa Wellington kick the day off in the third Europa Cup competition of the year from 8am.
You can watch live footage of the action via the Winterberg track camera at the following link: