Deas stays 5th in World Rankings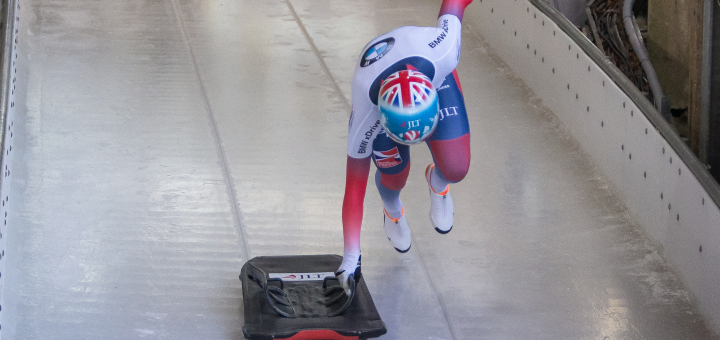 Laura Deas kicked off 2018 with an eighth-place finish in the Women's Skeleton World Cup in Altenberg on Friday morning.
Reigning Olympic Champion, Lizzy Yarnold, finished 19th in a race won by current World Cup points leader, Jacqueline Loelling.
Tina Hermann and Anna Fernstaedt made it a one-two-three for Germany on home ice in the sixth of eight World Cup races before February's Olympic Winter Games in South Korea.
Deas stays fifth in the overall World Cup standings, with Yarnold placed 14th.
Deas sat seventh after her first run, having clocked a time of 59.37 seconds on the track where she claimed her maiden World Cup win in November 2015. Her second run of 59.72 was the 11th quickest after she matched her first run start time of 5.54 seconds.
Yarnold was 16th at halfway but her second run was slower than her first and she fell down the field as a result.
Loelling's two-run time of 1 minute 57.84 seconds gave the 2017 World Champion her third win of the season and extends her lead in the overall standings to 109 points.
In the Men's race, Marcus Wyatt led the way for GB in his second World Cup event as he finished 14th. Wyatt was 10th on his debut in Igls last time out and he was again the top-placed British male in Altenberg in a combined time of 1 minute 56.72 seconds.
The 26-year-old jumped up five places in Run 2 as he went 1.34 seconds quicker than he did in the first heat. That second effort of 57.69 seconds was the eighth quickest of the 20 sliders in Run 2 as he again showed he can compete with the world's best.
Marcus Wyatt finished 14th following last week's top 10 effort
Dom Parsons placed 18th in a time of 1 minute 57.50 seconds after he jumped up two spots from 20th at halfway.
South Korea's Sungbin Yun took top spot for the fourth time this term to extend his lead at the summit of the standings as his nearest rival, Martins Dukurs, could only finish fifth. With the upcoming Olympic Winter Games taking place in his home country next month, Yun is yet to be outside of the top two in any of the six races so far this season.
World Cup (Altenberg, Germany). Women's Skeleton: 1 J Loelling (GER) 1m 57.84s (58.50 & 59.24); 2 T Hermann (GER) 1-57.87 (58.68 & 59.19); 3 A Fernstaedt (GER) 1-58.17 (58.90 & 59.27); 8 L Deas (GBR) 1-59.09 (59.37 & 59.72); 19 L Yarnold (GBR) 2-00.96 (1.00.42 & 1.00.54)
World Cup standings: 1 J Loelling (GER) 1227pts; 2 E Vathje (CAN) 1118; 3 T Hermann (GER) 1084; 5 L Deas (GBR) 1008; 14 L Yarnold (GBR) 700
World Cup (Altenberg, Germany). Men's Skeleton: 1 S Yun (KOR) 1m 54.28s (57.24 & 57.04); 2 A Tretiakov (RUS) 1-54.67 (57.33 & 57.34); 3 C Grotheer (GER) 1-55.04 (57.65 & 57.39); 14 M Wyatt (GBR) 1-56.72 (59.03 & 57.69); 18 D Parsons (GBR) 1-57.50 (59.12 & 58.38)
In the weekend's bobsleigh races, Lamin Deen, Nick Gleeson, Andrew Matthews and Greg Cackett were the top performing crew as they finished joint 10th in Sunday's 4-man competition. Deen and his team were 16th at halfway but clocked the fifth fastest run in the second heat to climb the leaderboard.
Brad Hall, Ben Simons, Toby Olubi and Joel Fearon were 15th overall but only three crews produced a quicker start time in Altenberg.
Saturday's racing saw Mica McNeill and Mica Moore finish 20th in the Women's Bobsleigh after they crashed during their second run. The British pair had sat seventh at halfway and looked to be on the verge of another fine performance before they overturned. In the 2-man competition, Hall and Olubi were 14th and Deen and Glesson were disqualified.