Deas leads Brits at World Champs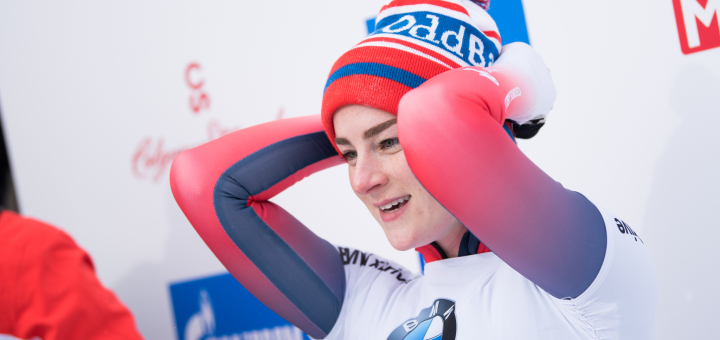 Olympic bronze medallist Laura Deas will be aiming for her first World Championship medal next month after being named in a six-strong British Skeleton squad for the season's showpiece in Canada.
Deas made Olympic history alongside Lizzy Yarnold in PyeongChang 12 months ago and will hope to be in the running for the podium in Whistler on March 7th and 8th.
The 30-year-old heads to the season's showpiece event in high spirits having won her first World Cup medal in three years when she took bronze in Calgary on Saturday.
Deas, whose World Championship best is seventh in Winterberg in 2015, is joined in the women's team by Madelaine Smith and Ashleigh Pittaway, who will both be making their World Championship debuts in Whistler.
Smith went to PyeongChang as part of the British Olympic Association's Ambition Programme for potential future Olympians and has since recorded four top 10 finishes in her first full World Cup campaign this season. The former sprint hurdler was 10th and 13th in back-to-back races in Calgary at the weekend and has a season's best of eighth in Innsbruck last month.
Pittaway won Youth Olympic Gold in 2016 and was the overall silver medal winner on the sport's second circuit, the Intercontinental Cup, earlier this season. The 18-year-old, who won Junior World Championship bronze a few weeks ago, was ninth in her first World Cup race of the season in Lake Placid and 16th on her one showing in Calgary on Sunday.
Fellow debutant Marcus Wyatt leads the way for the Brits in the men's team after finishing the World Cup season in sixth spot in the standings. The 27-year-old ex-American Footballer produced a personal best World Cup result on Saturday when he finished fifth, just 18 hundredths of a second off a first top-level medal. Wyatt was also eighth in Friday's race, meaning he finished the season with six successive top eight results in his first full year of World Cup competition.
Marcus Wyatt heads to his first World Championships in fine form
2018 Olympian Jerry Rice will take part in his second World Championships having finished 19th in Konigssee a year before placing 10th at the PyeongChang Games. Rice, who ended the World Cup campaign in fine form with a second best result of the season of 10thon Sunday, is joined by Jack Thomas in the team for the second World Championships running after the 28-year-old got the nod for the final spot after coming 17thon Friday. Thomas finished 16th in his debut World Championships in Konigssee in 2017 and has a best of 15thin this year's World Cup competition.
"The World Championships are the showpiece event this season and these six athletes have worked hard all year to earn selection," said British Skeleton's Interim Performance Director, Natalie Dunman.
"They've all stepped up this season in different ways and I'm confident they can do us proud in Whistler.
"We've named a strong squad - one that we believe can do well in Canada but one that also has the aim of the next Olympics in Beijing on their agenda.
 "It was a really tough call for selection for both the men's and women's team. That competition bodes well for the future of the programme but it will obviously be disappointing for both Kim Murray and Craig Thompson. They've both done themselves proud and there is undoubtedly more to come from them next season and beyond.
We might not have the same household names that competed at the Olympics, with Lizzy (Yarnold) having retired and Dom (Parsons) working on his PHD this year, but it says a lot about the strength in depth of the squad that we expect to be really competitive in Canada.
"We're looking forward to it and are genuinely excited about what this team can achieve."
IBSF World Championships in Whistler, Canada
British Skeleton squads:
Men: Jerry Rice, Jack Thomas, Marcus Wyatt
Women: Laura Deas, Ashleigh Pittaway, Madelaine Smith
Skeleton race schedule (all times are GMT)
Thurs 7 Mar
Men's Skeleton 5pm
Women's Skeleton 8.30pm
Fri 8 Mar
Men's Skeleton 5pm
Women's Skeleton 8.30pm