Six-strong Skeleton World Cup squad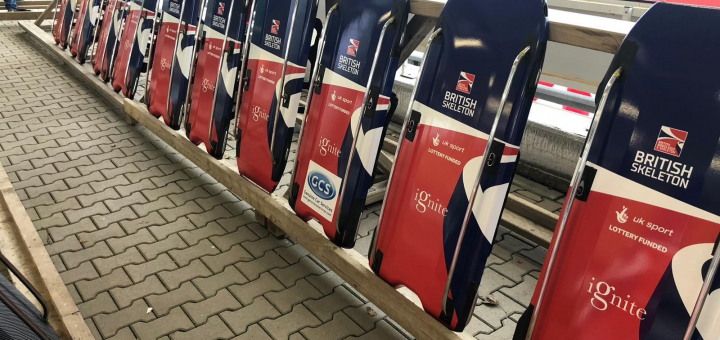 Olympic bronze medalist Laura Deas is among six British Skeleton sliders selected for this year's opening World Cup races as the team look to build on last season's historic success.
Deas made the podium in her maiden Olympic Winter Games in South Korea in February as British Skeleton celebrated an unprecedented hat-trick of medals thanks to a bronze for Dom Parsons and a second successive gold for Lizzy Yarnold.
And while Yarnold announced her retirement earlier this month and Parsons is stepping away from competitive sliding for a season to complete his PHD, Deas is ready to continue setting an example for an exciting World Cup squad with numerous Intercontinental Cup, Europa Cup and North American Cup medals between them.
Deas is joined in the women's team by Kim Murray and Maddy Smith, with Jerry Rice - who finished 10th in his first Olympics in February - Jack Thomas and Marcus Wyatt making up the men's team.
"The strength in depth in the squad this season is something we're very proud of," said British Skeleton's Interim Performance Director, Natalie Dunman.
"We know that people outside the squad will point to Lizzy's retirement but, while Lizzy is obviously a big loss, we're genuinely excited about the talent we still have with us.
Laura produced a superb performance to win bronze in PyeongChang and she's long established herself as a world-class slider. She is determined to kick on from her Olympic success and there's no reason why she can't be in the mix for medals throughout the season.
"Maddy showed that she has what it takes to compete at the top when she made the step up to World Cup level last season and Kim has impressed on the other circuits and fully deserves her chance to shine this season.
"It's a similar story in the men's team, where Jerry put down a personal best in PyeongChang and Marcus came incredibly close to securing an Olympic spot after just four World Cup races. Jack already has 13 World Cup races and a World Championships under his belt and we're expecting all three men to push each other hard this season."
Kim Murray (l) and Maddy Smith (c) make the World Cup squad
There are just two World Cup races before Christmas this year, with the calendar kicking off in Sigulda, Latvia on December 8 and 9, before moving to Winterberg, Germany the following week.
The competition returns after the festive break with four straight European races on successive weekends in January before concluding with a race apiece in America and Canada in February.
The showpiece event of the season, the World Championships, takes place in Whistler, Canada in early March.
Selection for the start of the World Cup campaign comes on the back of a two-heat qualifying race in Winterberg, Germany on Saturday. The race was due to have been held over four runs in two different venues but the previous week's race in Lillehammer, Norway was cancelled due to adverse weather.
"The weather conditions in Europe made pre-season sliding difficult but the squad and staff have adapted brilliantly," said Head of Performance, Danny Holdcroft.
"They have made the most of the opportunities the weather afforded and they've dealt with the mental side of things exceptionally. That bodes well for the season ahead as skeleton is never straightforward!
The selection races were really competitive and that's another indication of the talent we have in the group. The whole group showed a real appetite to succeed and to help us kick on from what was clearly an amazing achievement out in PyeongChang.
"There has never been any sense of complacency in the squad and everyone is desperate to ensure we keep the tradition of success going this season and throughout the new Olympic cycle."
British Skeleton World Cup squad:

Men: Jerry Rice, Jack Thomas, Marcus Wyatt
Women: Laura Deas, Kim Murray, Maddy Smith
Intercontinental Cup squad:
Brogan Crowley, Ashleigh Pittaway, Craig Thompson
Europa Cup squad:
Hannah Stevenson, Phillipa Wellington, Stefan Squire