Deas eyeing Altenberg repeat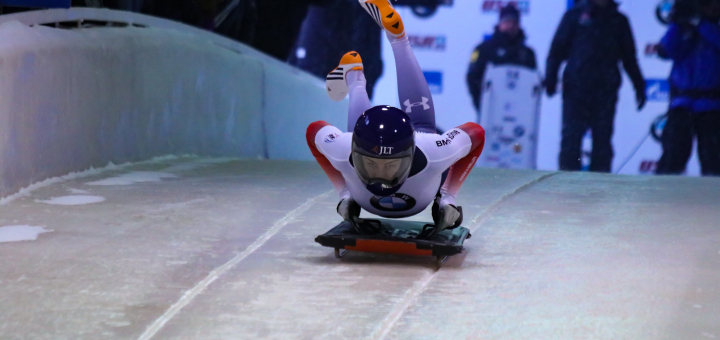 Laura Deas hopes a return to the home of her maiden World Cup win will help her get 2017 off to a flying start on Friday.
Deas claimed gold in Altenberg in last season's opening race 14 months ago and she would love to repeat the feat in the first race of the calendar year.
"I won here last season so I know I have the ability to be in the mix again this week," said Deas, who is currently ninth in the global standings following sixth and 10th place finishes in last month's events in Whistler and Lake Placid.
"Getting my first World Cup gold medal last time I was here was an amazing feeling and that will definitely drive me on. The races come thick and fast over the next five weeks and I'd love to begin that sequence with a successful start to 2017."
Laura Deas picked up a gold and bronze medal in last season's World Cup
Deas and her World Cup team-mates, Dom Parsons, Jack Thomas and Lizzy Yarnold, were last in action in mid-December in America but were back training in the UK over the festive season.
They now face five weeks on the road with races in Winterberg, St Moritz, Konigssee and Innsbruck following this week's race in Altenberg, before they come back to Bath to prepare for the World Championships.
It's an intense period but one which Deas can't wait to get started.
"It's always good to have a break over Christmas, even if it's only a short one, but I'm itching to get racing again now. We flew out on New Year's Eve and we've had a good few days of sliding out here and we're all keen to start competing.
It was good to see Lizzy on the podium in Lake Placid and I'm determined to be up there myself sooner rather than later this season.
"We've had six different girls winning gold, silver and bronze in the two races so far so it seems like a pretty competitive but open field.
"I put some really good runs together in training in Placid so, although it was disappointing to finish 10th, I still feel as though I'm in good form."
You can follow Laura live via the International Bobsleigh & Skeleton Federation website or on their YouTube channel, with Friday's race starting at 9am GMT.