Gold for Creighton & podium for Deas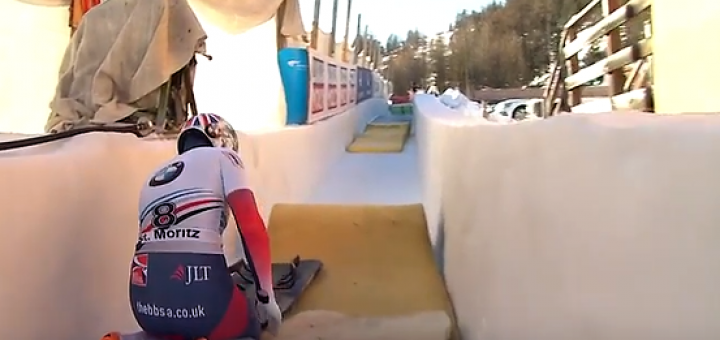 Donna Creighton won skeleton gold for Great Britain in the North American Cup (NAC) on Thursday and Laura Deas secured a podium place in the World Cup event in St Moritz on Friday afternoon.
Creighton took top spot in Lake Placid a week after winning silver in Intercontinental Cup competition in Calgary, while Deas finished sixth in Switzerland on the sport's top circuit.
There were more medals and podium positions for GB as Jerry Rice's bronze in Thursday's men's NAC race was sandwiched between third and fourth-placed finishes for Kim Murray in the Europa Cup in Altenberg.
Olympic Champion Lizzy Yarnold was 15th in the women's World Cup race, with Dom Parsons 10th and Jack Thomas 18th in the men's race.
"It's been a solid few days for the squad," said GB Skeleton's Head of Performance, Danny Holdcroft.
"Kim kicked things off in style in Altenberg on Thursday with her first-ever bronze medal and Donna really impressed by winning in Lake Placid.
It's always great to see British sliders on top of the podium and we were all really pleased for Donna.
"With Jerry medalling as well and Kim showing her consistency with a fourth on Friday, there's been some good news from all over the world.
"We would obviously have loved to have added to that with a World Cup medal today but Laura was in the mix and there are still positives to take away from St Moritz as we build towards next month's World Championships. Our focus is firmly on the Worlds in Konigssee in a few weeks' time and our primary objective remains peaking in Pyeongchang at the Winter Olympics a year from now."
Tim Hull was 16th in Thursday's EC race and 12th in Friday's, with Kenny Howard 10th in the NAC on Thursday ahead of more NAC racing in America this afternoon. Brogan Crowley was eighth and 11th in the women's EC races.

Laura Deas was sixth in St Moritz in the fifth World Cup race of the season
Did you know?
Gold for 31-year-old Creighton was her third in a decade of competing for Great Britain: she previously won ICC races in Whistler in 2015 and Sigulda in 2011.
World Cup (St Moritz, Switzerland). Women's: 1 M Rahneva (CAN) 2m 16.53s (1:08.49s & 1:08.04); 2 K Wessenberg (USA) 2-18.36 (1:09.28 & 1:09.08); 3 J Flock (AUT) 2-18.51 (1:09.29 & 1:09.22); 6 L Deas (GB) 2-18.81(1:09.58 & 1:09.23); 15 L Yarnold (GB) 2-19.73 (1:09.66 & 1:10.07)
World Cup standings: 1 J Loelling (GER) 989pts; 2 J Flock (AUT) 953; 3 E Vathje (CAN) 914; 6 L Yarnold (GB) 834; 7 L Deas (GB) 832
World Cup (St Moritz, Switzerland). Men's: 1 M Dukurs (LAT) 2m 15.10s (1:07.85 & 1:07.25); 2 S Yun (KOR) 2-15.13 (1:07.63 & 1:07.50); 3 N Tregybov (RUS) 2-15.65 (1:07.95 & 1:07.70); 10 D Parsons (GB) 2-16.80 (1:08.53 & 1:08.27); 18 J Thomas (GB) 2-18.07 (1:09.07 & 1:09.00)
World Cup standings: 1 M Dukurs (LAT) 1036pts; 2 S Yun (KOR) 1003; C Grotheer (GER) 897; 10 D Parsons (GB) 704; 18 J Thomas (GB) 360