Clean sweep for Skeleton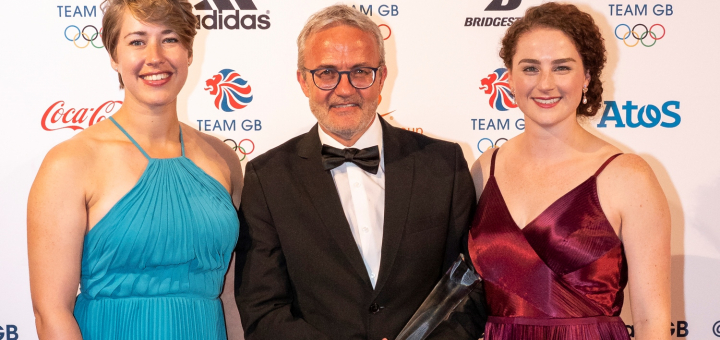 British Skeleton enjoyed a stellar night at the Team GB Ball as they walked away with a clean sweep of the prizes.
The event saw athletes and coaches who took part in the PyeongChang Olympic Winter Games in February join past Olympians and dignitaries in London on Thursday night.
And, on the back of their stunning success in South Korea seven months ago, our Skeleton stars won a hat-trick of honours at the Royal Horticultural Halls.
Bronze medalist Laura Deas and Olympic Champion Lizzy Yarnold picked up the Inspirational Moment Award after they became the first Brits to share a Winter Olympic podium in an individual sport.
Performance Director Andi Schmid then collected the prestigious Coach of the Year Award after guiding Deas, Yarnold and Dom Parsons to Olympic medals at an historic Games that also saw Jerry Rice secure a personal best at elite level with a top 10 finish.
Fittingly, the final award of the evening went to Britain's most-decorated Winter Olympian as Yarnold was voted the Olympians' Olympian by her PyeongChang team-mates.
The award, which signified the athlete who best demonstrated what it means to be part of Team GB, capped a wonderful season for Yarnold in which she carried the Union Flag at the opening ceremony before becoming the first Brit to defend a Winter Olympic title.
"Winning the Inspirational Moment with Laura Deas as well as the Olympians' Olympian was super exciting," said Yarnold.
"Getting any award is super special but getting an award at the Team GB Ball voted for by the other Olympians, people that I admire and respect, means a huge amount. I loved being able to celebrate a successful PyeongChang Winter Olympics with those who competed and those who helped make it happen.
Being an Olympian was my childhood dream. It took me until I was 18 to find a sport where I was able to do that but then to go to Sochi and then to PyeongChang to live out that dream is something so extraordinary it's hard to get my head around.
"It really comes true for me when I go into schools and meet hundreds of school kids and I just show them the gold medal. I'm able to say to children 'never give up on your dreams like I never gave up on mine'."
"Andi is the most deserving winner of the Team GB Coach of the Year Award and I'm happy to see that he is becoming more comfortable with everyone's appreciation and thanks! It was great to see four other skeleton medalists and myself on the stage congratulating Andi.
For Schmid, his own award and those of his athletes is further testament to the outstanding work done by his whole team, not only during the PyeongChang cycle but also throughout his 17 years with the British programme.
"It is an honour to receive this award but it is one that is more about the success of the whole team rather than me as an individual," said Schmid, who recently stepped down from his position after so much sustained success.
"We have such a great team of coaches and support staff and they did a wonderful job. I am very proud of them all and very thankful for everything they continue to do for the team.
"The secret to success is being given the chance to start from scratch 17 years ago and being left alone with our vision and goals. We were then able to create a programme which allowed us to develop athletes to get to the level that we've seen during this time and achieve great results. These achievements were based on regular change and improvement as well as having great athletes and coaches," 
"For PyeongChang, the whole preparation came together during the Games. What was amazing was how we did our homework so well and the other nations started to struggle. The medal from Dominic was very special, not only because it was the first male medal we had won in many years at the Olympics, but also because it was a great push for the rest of the team and the two girls.
I always knew we had the potential to win three medals but we needed to execute on those specific days - and that's exactly what we did.
"The run can go on in Beijing 2022. I made my own decision in terms of my retirement as 17 years is enough but I know the next generation can carry the programme on. Three medals again would be a big goal and, to be honest, it is always hard to achieve but we will never say never and will stay aspirational."
"It is fantastic to see Andi, Laura and Lizzy recognised in this way," added Christopher Rodrigues, Chairman of the British Bobsleigh & Skeleton Association.
"Their achievements in PyeongChang in particular were truly incredible and they deserve every accolade they receive.
"We are very proud of them and it is wonderful to see that so many other Olympians are, too."