Bronze medalists react to brilliant news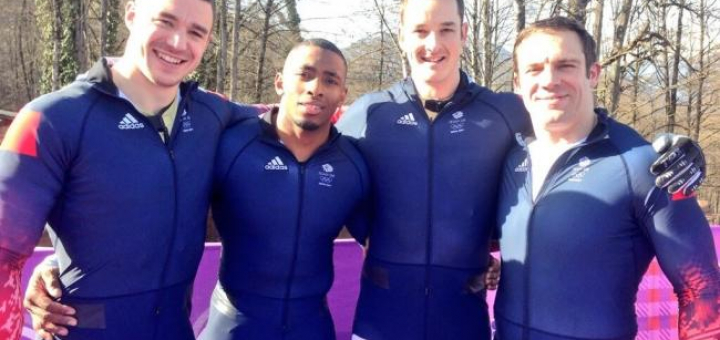 After finally finding out that they were officially Olympic medalists, we caught up with John Jackson, Stu Benson, Bruce Tasker and Joel Fearon to get their initial reaction to the news they'd been waiting for.
All four members of the medal winning crew from the Sochi 2014 Olympic Winter Games received a call from Team GB'S Chef de Mission early this morning and each one of them finished the conversation grinning from ear to ear.
And, while it may have been a long time coming on the back of the Russian doping scandal highlighted by the McLaren report in 2016, the news today was still a massive moment for them and their families.
Here's what they had to say…
Joel Fearon
"I had a phone call at 8 o'clock this morning as I was getting ready for the school run! It was a pretty exciting moment. We've got a What's App group between us so there was all sorts of madness going off this morning! We'll meet up soon and we're all excited about that.
I'm very, very happy to know the medal is finally ours. I'm also a little bit sad because me and my team-mates didn't get the full Olympic experience for all the hard work we put in over the years. It's a bit bitter sweet but it's definitely more sweet than bitter!
"My team-mates have all retired but it's great to know that they will get the moment they deserve. I've got three boys now as well so I'm looking forward to being able to share that moment with them. In a way, I prefer the thought of getting a medal when I can really understand and appreciate all that we went through to just to get to the Games.
"I'm just delighted that we can celebrate this moment as a team now. It's going to be lovely to meet up with them again. It was an amazing time, regardless of the medal."
Bruce Tasker
"There have been so many news reports over the last few years that have seemed to have just said the same thing with very little new news so it feels like this had been coming for even longer than it had. It was only when I had that call from Mike that it really hit home. It really feels like the wheels are in motion now and that things are definitely going to happen.
It's a mixture of excitement, pride and relief at the moment. We chatted as a group this morning and we've remained pretty calm so far but I'm pretty sure when we get together it will be a bit more celebratory! 
"We laid to bed the fact that we had the moment taken away from us and we're over that. We can now make something really positive out of this. It was all about the journey that we took and I feel really proud of what we achieved as a team."
Fearon, Tasker, Benson and Jackson achieved great things as a team
Stu Benson
"It was an incredible journey as a team and with the support staff who helped us along the way. We had ups and downs and nobody saw this result coming after Jacko was injured in the build up to the Games. 
"After all that, coming fifth was amazing so to now know we've finished third, we can only say 'thanks' to everyone for all their support. I'd also like to say 'thanks' to Jacko for getting back in time from that ruptured Achilles.
I sometimes forget just how close we were to not standing on that start line. This brings it all back and reminds me of that combined effort.
"We did lots of celebrating with finishing fifth but it's nice to now be able to tie it altogether and know that it's part of Olympic history now.
"We've had a long time to sit and stew on the fact that we missed out on that medal moment. We've thought about it a lot but our lives have moved on and it's about making the most of this now.  I was so excited getting that phone call today and I don't think I could have actually been any more excited if it had happened at the time."
John Jackson
"I'm over the moon to be able to say I'm an Olympic bronze medallist. When I came into the sport, I told the coaches I was going to win an Olympic medal and it's great to know that we've done that.
Although it's been coming for so long, it's not really sunk in yet. There was a time when you never really knew what was going to happen. It felt like it could have gone either way when the CAS (Court of Arbitration for Sport) decisions were coming out. 
"Although we then thought this would be coming at some point, it was still emotional to have it confirmed today. As soon as I found out, I messaged my wife Paula saying 'get the champagne in the fridge - we're going to have a glass tonight!'
"Some things don't change, though: the kids are still more interested in Peppa Pig and Hey Duggee! That's the reality of it - you might be an Olympic Bronze medallist but you still need to change my nappy and I still want you to change the TV over!"