Bronze for Yarnold & 5th for Deas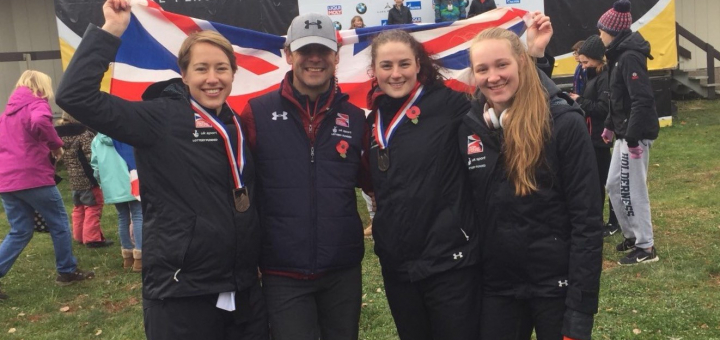 Reigning Champion Lizzy Yarnold started the Olympic Skeleton season with a bronze medal in Lake Placid on Thursday as fellow Brit Laura Deas finished fifth.
Yarnold, who is attempting to become the first Briton to retain an Olympic Winter crown following success in Sochi in 2014, finished 0.33 seconds behind race winner Janine Flock of Austria.
The 29-year-old sat fifth after the first of two runs in a time of 55.35 seconds before producing the second quickest effort of Run 2 in 55.11.
It was a similar story for Deas, who jumped up from eighth at the halfway mark thanks to the third quickest run of the second heat.
Canada's Elizabeth Vathje took silver, with Russia's Elena Nikitina sandwiched between Yarnold and Deas in the first of eight World Cup races prior to February's Olympic Winter Games in Pyeongchang.
"I'm really pleased with my push starts on both runs - it's the fastest I've ever gone," said Yarnold, who clocked start times of 5.31 and 5.22 seconds in New York State.
"Third isn't first, which is where I always aim to be, but, nonetheless, it's a good start to the season and I'm raring to go for next week."
"That's a really good opener to the season. It gives me a platform to push on from," added Deas.
"I want to be in the top six consistently and be challenging for medals. To have already better my best result from last season is a positive place to be.
"I left myself a lot to do after the first run but I was really pleased with my push starts and with the way I pulled my way back into contention in the second run."
Britain's Ashleigh Pittaway finished 21st in just her second World Cup appearance as she recorded a time of 56.17 seconds in Run 1. The reigning Youth Olympic Champion's solitary World Cup experience prior to Placid came in Konigssee back in March 2016 but she only narrowly missed out on a second run in the States. With just the top 20 of 26 athletes making it through to Run 2, the 17-year-old finished 0.13 seconds outside that marker.
The World Cup action continues later today with the Women's Bobsleigh at 5.30pm GMT and the 2-man Bobsleigh at 8.30pm, before Dom Parsons, Jerry Rice and Jack Thomas go for GB in the Men's Skeleton at 1.30pm on Friday.
World Cup (Lake Placid, USA). Women's Skeleton: 1 J Flock (AUT) 1m 50.13s (54.69 & 55.44); 2 E Vathje (CAN) 1-50.39 (55.10 & 55.29); 3 L Yarnold (GBR) 1-50.46 (55.35 & 55.11); 5 L Deas (GBR) 1-50.69 (55.43 & 55.26); 21 A Pittaway (GBR) 56.17 for Run 1