Brits compete in first Youth Games races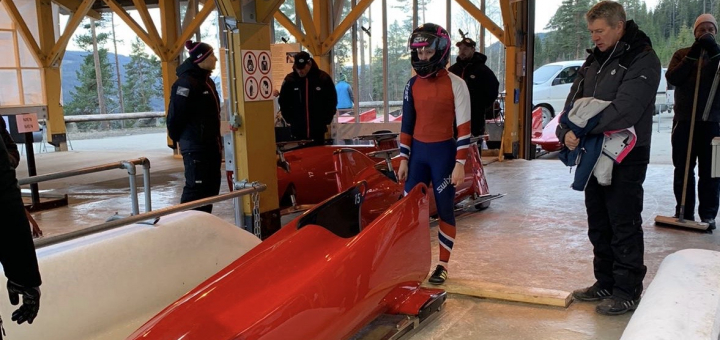 The journey to the Youth Olympics gathered pace at the weekend as the first of the qualification races took place in Norway.
Five aspiring young Olympians competed for Great Britain in Race 1 and 2 of the Omega Youth Series in Lillehammer on Saturday and Sunday, with Charlotte Longden leading the way with ninth and 11th-place finishes in the girls' mono-bob competition.
Éire Rowland-Evans placed 11th and 15th in the same race in what was the first competition of the new season for any BBSA athletes.
The boys competed at the same track and on the same days as their female team-mates, with Luka Williams finishing 16th and 22nd, William Scammell 17th and 19th and Harry Johnston 20th and 21st.
And there were some really positive signs when it came to the start times for a group of athletes with limited sliding experience compared to most of their rivals.
Longden and Johnston were never outside the top five fastest starters, with Johnston registering the second quickest start in one of his runs and Longden the third in one of hers.
Williams also shone at the top by clocking the fifth-fastest starts in three of his four runs, while Rowland-Evans was inside the top 10 in each of her four starts at the venue that hosted the last Youth games in 2016. 
The back-to-back races in Norway were the first of the season
Romanian Georgeta Popescu currently heads the girls' standings after the first two races, with Fabian Gisler of Switzerland out in front in the boys' category after taking gold and silver in Norway.
The squad, who continued to be supported by Alantra, will now prepare for Race 3 and 4 in Germany on November 8 and 9, with the double header in Konigssee forming the last competitive chance for the Olympic hopefuls to press their claims for selection to the British team for next year's Games.
The Omega Youth Series features eight races on four different tracks but, with four of those races taking place in North America and only four results counting towards the qualification process, the GB team are focussing their efforts on the European leg of the competition.
The team are hoping to emulate the likes of Mica McNeill and Jazmin Saywers, who won silver when the competition was a two-person event at the first Youth Games in 2012, and Kelsea Purchall, who took bronze four years later.
The Youth Olympic Winter Games takes place in Lausanne between January 9 and 22 next year, with the mono-bob races scheduled for the home of sliding in St Moritz on January 19 and 20.