British best for Hall & Cackett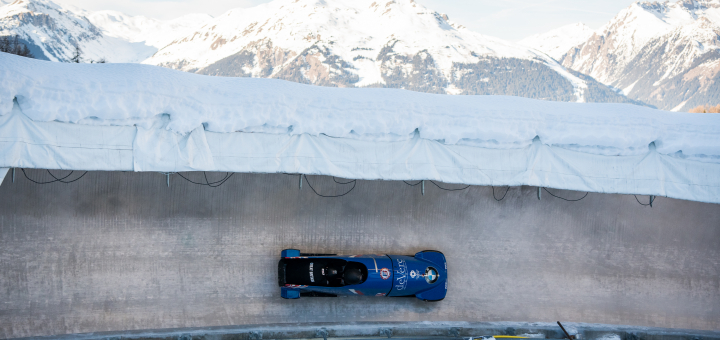 Brad Hall and Greg Cackett recorded the country's best World Cup 2-man bobsleigh result this millennium as they finished fourth in France on Saturday afternoon.
Hall and Cackett sat second at halfway in La Plagne before missing a medal by 18 hundredths of a second on the sport's top circuit.
The result came in just the pair's second ever 2-man race together and on the back of an injury ravaged start to the season as they showed their potential to challenge for a medal at the Beijing Olympics in 2022.
Hall had been forced to pull out of Europa Cup competition due to injury prior to Christmas, while Cackett is just a few weeks into his return to the sport following a two-year absence having switched to cycling after the PyeongChang Olympics.
It also follows significant injuries to fellow crew members Sam Blanchett and Alan Toward and a bout of illness for Hall, Cackett and 4-man team-mates Luke Dawes and Taylor Lawrence this week.
"It's a little bit bittersweet after we finished second in the first heat but, if we'd have known we'd finish fourth at the beginning of the day, we'd have definitely taken it," said Hall, who won a World Cup bronze medal with Cackett, Bruce Tasker and Joel Fearon in the 4-man event in Whistler back in November 2017. 
It's our first World Cup race in the 2-man this year and we've mirrored our result at the World Championships at the end of last season. We've started where we left off and that's a good place to be.
"It's GB's best 2-man World Cup result that anyone of us can remember so it's been a good day all round."
The result betters Hall's 6th place finish in St Moritz this time last year and means he has now recorded personal bests in each of his last five top level 2-man races. 
The 29-year-old former decathlete was ninth, eighth and sixth in the final three World Cup races of last season and he equalled the nation's best World Championship 2-man result for 53 years when he finished joint fourth with Nick Gleeson in February last year.
"It's definitely shown our potential," added Cackett.
I wanted more in terms of the start times but it's a great result for us really, especially when I'm new to 2-man and we're new to this as a team, too. 
"We've had some bad luck recently and we knew we were facing a challenge today as the whole team has been ill this week and I've been nursing a hip niggle, too, so I'd have gladly taken fourth before the race.
"Brad drove brilliantly and I'm loving being back in bobsleigh."
Hall and Cackett clocked a combined time of 1 minute 59.04 seconds thanks to a 59.26 effort in Run 1 and a 59.78 showing second time around. They broke the six-second barrier for the start times in both runs - something only four other sleds managed from the 22 that took part.
Germany's reigning World and Olympic Champion Francesco Friedrich took gold, with Latvia's Oskars Kibermanis in silver and Switzerland's Michael Vogt the sled that pipped the Brits to bronze.
Hall and Cackett race again in the 4-man event at 10am GMT tomorrow, as does Lamin Deen, who finished 20th alongside Tremayne Gilling today after he was handed a particularly tough draw in Run 1.
The teams then head to Igls in Austria next week as the eight-race World Cup competition enters its second half, with the showpiece event of the IBSF calendar, the World Championships, scheduled for Altenberg in Germany in late February.
Mica McNeill and Montell Douglas finished eighth in the women's race earlier in the day after illness had cut short their own training time in La Plagne.