Bright future for Crowley and co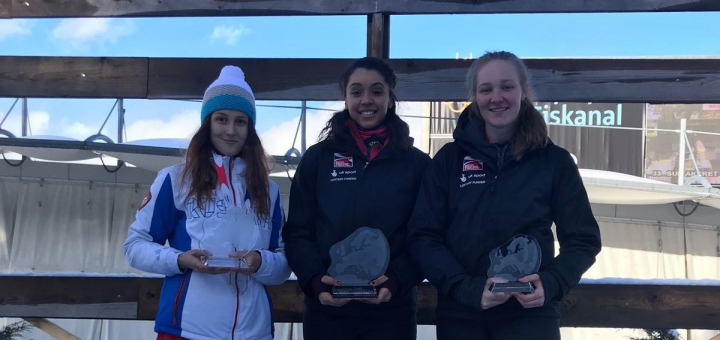 The future looks bright for GB Skeleton after Brogan Crowley became the latest British winner of an overall season skeleton crown.
With team-mates Laura Deas and Lizzy Yarnold all set to star for Team GB in the Olympic Winter Games next week, Crowley showed she could follow in their footsteps in Beijing in four years' time after taking Europa Cup glory in Igls in late January.
The 23-year-old has since spoken of her immense pride in matching the likes of Yarnold, Jerry Rice, David Swift, Donna Creighton, Shelley Rudman and Rose McGrandle in winning overall season titles in recent years as she capped a hugely consistent winter with a fourth-place finish in the final race in Austria.
Crowley, who is a former GB Junior heptathlete, won one gold, three silver and a brace of bronze medals and was never outside the top four in eight races between November and January.
"There is nothing that compares to hearing your own national anthem being played and knowing all the work you have been putting in has paid off. It was an incredibly proud moment," said Crowley, who clinched the continental crown with a race to spare.
"The overall title wasn't a goal at the start of the year so it was a big shock to be in contention half way through the season. My aim for the campaign was to focus on consistency, with the hope that results would speak for themselves.
"That's been a big thing for me, being able to produce the consistency that I have done this year. I had some really good runs during races last season but I was never really able to pull together two good runs in a row in order to be competitive in and around the podium places. It's exciting to see how much my sliding has progressed in a year and hopefully I will continue to learn and grow as a slider in the lead up to 2022 in Beijing."
Brogan Crowley has continued the country's EC success
The 2022 Games have been Crowley's aim since she came into the British Skeleton programme via the UK Sport Talent ID campaign after the 2014 Olympics in Sochi.
Having finished fifth on her international debut in the North American Cup in Lake Placid in March 2016, she was always inside the top 12 last term and placed ninth in her first World Junior Championships in Sigulda a year ago. But, while she always felt she had what it takes to reach the top, this latest triumph has added to her belief that she can make it all the way to Beijing.
"Winning the EC title was huge confidence boost that reinforces my trust in the process and the programme and the team around me. I'm already looking forward to seeing what results I am able to produce next season, where I will hopefully be on the ICC circuit with more experienced competition on potentially some new tracks," added Crowley, who expects to take further inspiration from the upcoming Olympics in South Korea.
We're currently on a training camp in Konigssee where we will have the chance to get together as a big group to watch and support our athletes at the Olympics in Pyeongchang. It will definitely be an exciting time to slide as I'm sure we will be seeing some incredible performances which will inspire us for the four years leading into the 2022 Games.
"Next season, the aim will be to learn a few more tracks in America and Canada and then continue the progress I've had this year in the lead up to Beijing."
Crowley is one of a number of up and coming sliders who have shone for Great Britain this season, with Maddy Smith making a significant impact in her first appearances on the World Cup circuit, Kim Murray excelling in Intercontinental Cup competition and Ellie Furneaux joining Crowley on the EC podium by finishing third overall despite missing the final race of the season through injury.
"I'm very pleased with how much I have improved from last season," said Furneaux, who won three gold medals in her seven races.
"I went into the season in the hope that I would get one top eight finish and ended up coming third overall. I was so upset to have missed the last race due to injury but having a photo of my trophy sent to me whilst I was recovering at home was a real morale boost. I'm incredibly proud of the overall result: I couldn't believe I had still come third after a 'Did Not Finish' because of a crash the week before as well. It made me realise just how successful my season had been.
"Standing on the podium when I won in Lillehammer (twice) and La Plagne and having the national anthem played was surreal. Funnily enough, whilst actually standing there I didn't feel as emotional as I did when I watched it back.
The best part was sending the videos of me on the podium, singing the national anthem, back home to my family and making them cry!
"My aim now is to get another great summer of training under my belt and hit the ice in October ready to hopefully move upwards and be as competitive as I was this year. It will be a challenge, but I am excited to see how I can do. That will be a great starting point for the next four years leading up to Beijing."
Ellie Furneaux won a hat-trick of gold medals this season
Elsewhere on the Europa Cup circuit, Craig Thompson won bronze for GB in the final race in Igls. That medal was a third of the season for the 25-year-old ex-footballer and it meant he finished fifth in the overall standings despite not taking part in three of the eight races.
It points to a positive path ahead for British Skeleton, who have a history of producing when it matters with Yarnold, Amy Williams, Shelley Rudman and Alex Coomber all medalling at the four Olympics since the sport's re-introduction to the showpiece event.
"The form our development athletes have produced this season has shown that we are in a very good place to achieve future success," said British Skeleton's Head of Performance, Danny Holdcroft.
For any athlete to win an overall series title is a fantastic feat and to do so with the consistency Brogan has shown is even more impressive.
"Brogan deserves a lot of recognition for this achievement. Hopefully, it is the galvanising foundation that will allow her to springboard up the international ladder in the coming seasons.
"The past four years have had a double focus from a strategic perspective: i) to deliver at the 2018 Olympic Winter Games in South Korea; and ii) to put the programme in a strong position for the next cycle and the Games in Beijing in 2022. I'm confident that we in a good place on both fronts and I'm looking forward to the next few weeks and the next four years."