Bob crew to receive Olympic medals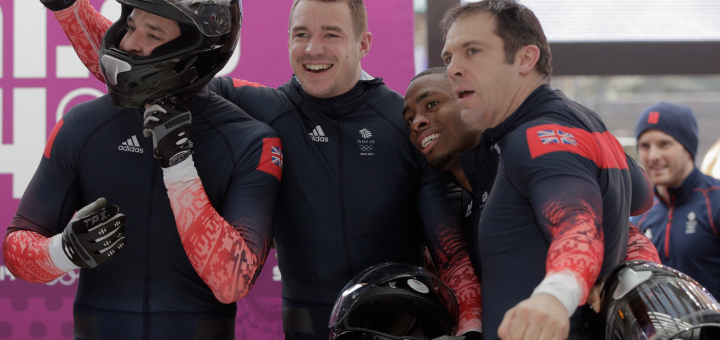 The British 4-man bobsleigh team who won bronze at the Olympic Winter Games in Sochi five years ago will receive their medals in London next month.
John Jackson, Stu Benson, Bruce Tasker and Joel Fearon originally finished fifth in Russia in 2014, just 11 hundredths of a second outside the medal spots at the sport's showpiece event.
The subsequent disqualification of the home nation's gold medal winning and fourth-place sleds for doping offences meant the GB crew were officially recognised as Olympic medalists in March of this year.
The quartet were honoured at the BBSA's Gala Dinner in Canary Wharf in April but they will now finally receive their Olympic medals at the Team GB Ball in Old Billingsgate on November 21st.
 "With less than a month to go, it is starting to feel real," said Jackson, who represented his country for a decade before retiring in 2016.
"It has been an emotional rollercoaster since the McLaren report first came out - anger, disappointment, happiness, frustration and pure relief, once we had been told it was official. 
We will never have that Olympic moment, but receiving our medal at the Team GB Ball will be a special moment.
"We had a really close bond as a team: we started as four individuals but we all had the mindset that we wanted to do the best for the team and, when we stood on that start block, we fought as a unit.
"When I came into the sport, I told the coaches I was going to win an Olympic medal and it's great to know that we've done that."
Jackson, Benson, Fearon and Tasker will receive their medals in November
Recognition of the crew's bronze takes Team GB's tally from Sochi to five medals - equalling the total achieved in PyeongChang in 2018.
It means our bobsleigh teams now have five Olympic medals to their name, with Jackson and co joining Frederick McEvoy and Sean Olsson's bronze medal winning crews from 1936 and 1998, Ralph Broome's silver success in 1924 and Tony Nash and Robin Dixon's golden triumph in 1964.
 "This is another example of Team GB athletes denied their moment on the rostrum at an Olympic Games by doping cheats," said British Olympic Association Chairman Sir Hugh Robertson.
"Whilst we can never replace that moment at Sochi five years ago, I know that everyone at this year's Team GB Ball will help John, Bruce, Stuart and Joel mark the occasion in the best possible way."