Another action packed weekend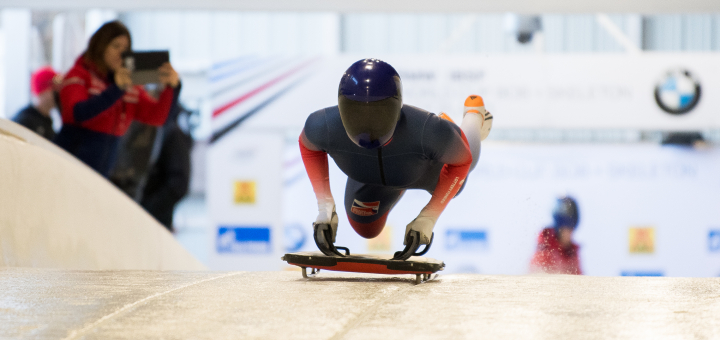 The British Skeleton team take to the ice again tomorrow for the second of back-to-back World Cup races in less than a week in the United States and there is a heavy British involvement in both bobsleigh and skeleton competitions on this side of the Atlantic, too. 

The sport's top circuit began at the same track in Lake Placid last Saturday and Sunday when Laura Deas and Marcus Wyatt recorded top ten finishes and Dom Parsons made his first international appearance since winning Olympic bronze in PyeongChang in February 2018.
Deas, Parsons and Wyatt go again for GB on Friday, as do Kim Murray, Madelaine Smith and Craig Thompson. The women's race begins at 3pm GMT, with the men's competition scheduled for 7pm.
"Last weekend's results weren't too far from what we were expecting given that it's been a while since most of the athletes have competed but we're looking for improvement this week," said Natalie Dunman, Performance Director the British Skeleton team.
Racing two weeks in a row at the same track means that everyone in the field should be better second time around so we know we will need to step up our performance levels if we're to do that.
"We know that this season is about building towards Beijing but, of course, the team all want to be in the mix on race day.
"Training has gone well so far and we're confident ahead of Friday. There was some disappointment from a couple of the athletes after the first race and they are determined to bounce back, while those that were happy with how it went last time are looking to build on that now."
Marcus Wyatt was 10th in the first World Cup race of the season  
Parsons placed 13th five days ago, with Thompson just missing out on the top 20 despite being the fastest starter in the first heat. Smith and Murray were 19th and 22nd respectively in the women's event 24 hours later.
Elsewhere on the skeleton circuit, GB are looking for a repeat of the success they secured last week on both the Intercontinental Cup (ICC) and Europa Cup (EC) circuits. 
The team won medals in both competitions in Winterberg and will be hoping for more of the same on another German track in Konigssee on Saturday and Sunday.
Jerry Rice took ICC bronze last time out and Hannah Stevenson and Amelia Coltman sceured a dream start to the women's EC season with a British 1-2 the following day.
"It's a busy week on the other circuits, too, and we're really happy with how things have started on ICC and EC," added Dunman. 
"To see Jerry medal and all four athletes make the wider ICC podium in Winterberg on Saturday was really encouraging and it was the same feeling for EC on Sunday. 
Hannah and Amelia winning gold and silver made it a perfect start for the EC women.
"There were also some really positive signs in the men's race, especially from Matt (Weston) who was in the hunt for a medal until the second run was abandoned late on."
There is also British involvement on the bobsleigh circuit this weekend as Lamin Deen and Mica McNeill pilot British sleds in EC action in Winterberg.
Lamin Deen and co were sixth in last week's EC 4-man race
Deen goes in the 2-man competition on Friday and then in the 4-man races on both Saturday and Sunday, with McNeill also sliding on successive days on Saturday and Sunday. New recruit Vicky Williamson, who made her debut with a fifth-place finish alongside McNeill last week, is in line to race again after her high-profile switch from British Cycling.
Fellow British Olympian Brad Hall won't be competing this week as he recovers from injury.
In the World Cup para bobsleigh competition, Britain's Corie Mapp will be keen to continue his stunning start to the new season after he won silver and gold in Lillehammer last week.
Former serving soldier map competes on Friday morning and Saturday afternoon as he looks to regain the overall World Cup crown he won two seasons ago.
Race schedule
Friday
WC para bobsleigh @ 8am in Oberhof
EC 2-man bobsleigh @ 1pm in Winterberg
WC women's skeleton @ 3pm in Lake Placid 
WC men's skeleton @ 7pm in Lake Placid 
Saturday
EC 4-man bobsleigh & women's bobsleigh @ 8am in Winterberg 
EC men's and women's skeleton @ 8am in Konigssee
ICC men's and women's skeleton @ 12.30pm in Konigssee 
WC para bobsleigh @ 2pm in Oberhof 
Sunday
EC 4-man bobsleigh & women's bobsleigh @ 8am in Winterberg
EC men's and women's skeleton @ 8am in Konigssee
NB all times are GMT.
You can watch all the World Cup action via the International Bobsleigh & Skeleton Federation website and on their YouTube channel.
We'll provide updates from the rest of the races via our own social media channels and we'll post a round up of the results once they've come in.