'A legend on & off the ice': Yarnold retires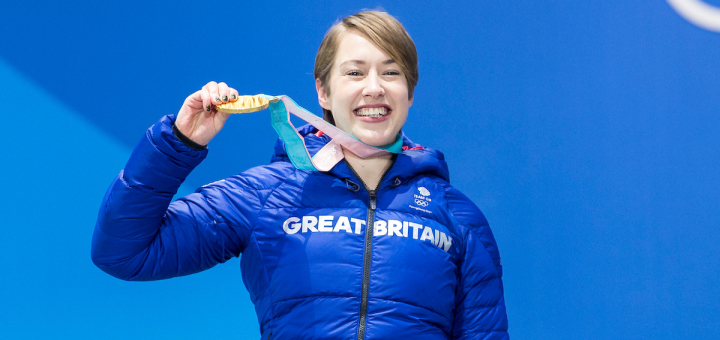 Lizzy Yarnold has been described as 'a legend on and off the track' by one of those who knows her best after she announced her retirement from skeleton.
The 29-year-old has called time on a stellar career that saw her win back-to-back Olympic gold medals to become the country's most decorated Winter Olympian of all time.
During a stunning 10-year skeleton adventure, Yarnold won every major trophy in the sport, including World Championship, World Cup and European Championship crowns, before cementing her place in the history books with her second Olympic success in South Korea just eight months ago.
And it is not just on the ice where Yarnold has had a massive impact - the former heptathlete has inspired a whole generation of British youngsters to live out their dreams, including a host of young British Skeleton stars now hoping to follow in her footsteps.
"Lizzy has given everything to our sport and she undoubtedly deserves her status as a true great," said British Skeleton's Head of Performance, Danny Holdcroft, who has been part of Yarnold's skeleton journey since it began back in 2008.
"It has been a privilege to see her grow and develop into someone who has perfected the blend of the ruthlessness needed to be successful in high performance sport and the ability to be a real team player.
"While her natural talent is unquestionable, Lizzy showed us all what is possible with dedication and hard work. Her drive and desire to defend her Olympic title was a shining example of digging deep into both physical and mental trenches to achieve a dream.
Her achievements on the ice have been simply sensational but her support for those attempting to do what she has done has been equally remarkable.
"Lizzy's enthusiasm to inspire the next generation of sporting stars within Great Britain is something she should be very, very proud of. She is a legend, on and off the track.
"British Skeleton may have lost an Olympic Champion from its active roster with her retirement but the benchmark that Lizzy leaves behind is an inspiration to all of our athletes and a reminder that the impossible is possible!"
Lizzy Yarnold won every major honour possible during a decade in the sport
Those sentiments were echoed by British Bobsleigh & Skeleton Chairman, Christopher Rodrigues, who praised Yarnold for the way she has carried herself as an ambassador of the sport as well as a champion slider.
"Lizzy has enjoyed a fantastic career and everyone here would like to say a huge 'thank you' for the way in which she has represented the team and the sport as a whole," said Rodrigues.
"Her achievements on the track are nothing short of outstanding.
Lizzy will rightly be regarded as a true great.
"Those results on the ice and her attitude off it have made her an asset to the sport, to her team, and to the country as a whole. She has inspired so many people across the world and we are all incredibly proud of her. Thank you Lizzy."
Yarnold plans to remain involved with British Skeleton in a mentoring capacity as the latest crop of athletes attempt to achieve their own ambitions at Beijing 2022 and beyond.