4-man round up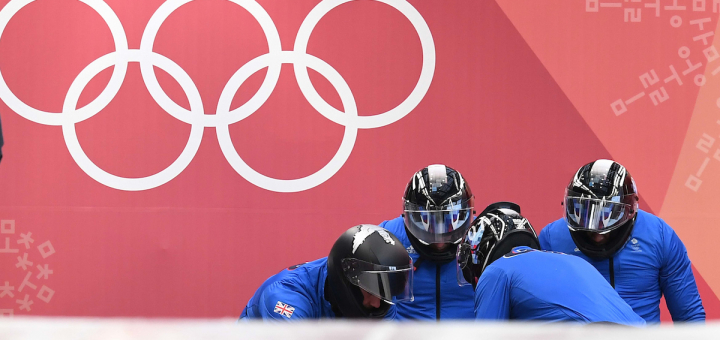 Team GB's 4-man bobsleigh crews will head into the final day of Olympic competition in 17th and 18th places following the first two heats on Saturday morning.
Lamin Deen, Ben Simons, Toby Olubi and Andrew Matthews are the higher placed British crew at the halfway mark, with Brad Hall, Nick Gleeson, Joel Fearon and Greg Cackett four hundredths of a second behind them in PyeongChang.
Deen's team, who started from 17th position and were 19th after the first run, are currently 0.45 seconds off the top 10 after clocking a combined time of 1 minute 38.89 seconds over their two runs.
They started in 4.98 seconds on both occasions and were equally consistent down the track as they went on to record a time of 49.44 seconds in Run 1 and 49.45 seconds in Run 2.
"Today wasn't great at all. We're at the back end of the field but tomorrow is another day," said Deen. "We're going to improve tomorrow - that's all we can do."
Hall and co sat 16th after the first run having registered a 49.25 seconds downtime off the back of the joint fourth fastest start of 4.89 seconds, with only Justin Kripps, Oskars Melbardis and race leader Francesco Friedrich going quicker off the top.
Their second run start time of 4.94 seconds was followed by a down time of 49.68 seconds as they slipped back behind Deen ahead of tomorrow's action.
"We were pretty happy with the first run, even though the pace wasn't what we wanted. The drive was nice and neat and the start was good," added Hall.
"I made a couple of little mistakes in the second run…we've got to go back to the Village now, recover well and return tomorrow to push well, drive well and see where that puts us."
Friedrich, who shared 2-man gold with Kripps earlier in the week, is ahead by an impressive 0.29 seconds at the end of the first day. Home favourite Yunjong Won sits second, with Friedrich's German team-mate Nico Walther in third, a further six hundredths back.
The top 20 sleds after Run 3 continue on to Run 4, with the combined times of all four runs then deciding the final placings.
Runs 3 and 4 take place tomorrow morning at 9.30 local time and 00.30 GMT.