4-man brings Games to a close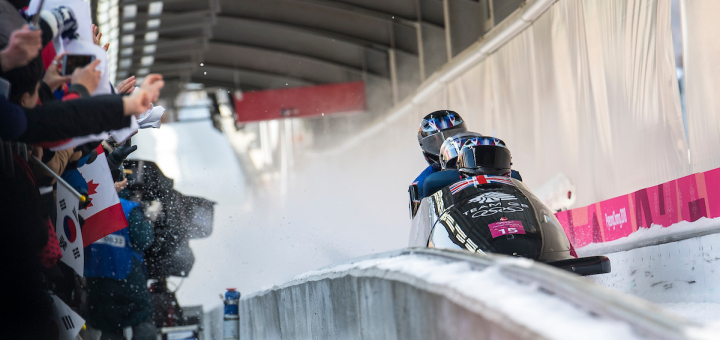 The final day of action at the 23rd Olympic Winter Games saw the Team GB 4-man bobsleigh crews finish 17th and 18th in a 30-strong field in Alpenisa.
Brad Hall, Nick Gleeson, Joel Fearon and Greg Cackett ended the four-heat race three hundredths of a second ahead of team-mates Lamin Deen, Ben Simons, Toby Olubi and Andrew Matthews as Germany's Francesco Friedrich added 4-man gold to his 2-man title.
The British crews swapped places from their overnight positions after the first two runs but were unable to make inroads into those above them.
Both crews won medals on the World Cup circuit this season, with Deen's team taking silver in Whistler and Hall's crew bagging bronze in Park City, but they were unable to replicate those results in South Korea.
"We're not looking for excuses - we just had a bad day and it's unlucky that it was at the Olympics," said Deen.
"We've had success this season: we've beaten every single person who is racing here, we've set speed records this year, track records this year, and we know we can do it.
"Hopefully UK Sport will look upon the potential we have and what we've done in the season itself. We've had two pilots 11th and 12th in the world rankings so we know we are competitive. This is racing and it didn't happen for us over these two days."
The 4-man bobsleigh was the last event at the Olympic Sliding Centre
Hall, Gleeson, Fearon and Cackett produced the fourth, fifth and sixth best start times in three of their four runs as they clocked a combined time of 3 minutes 18.26 seconds, with Deen, Simons, Olubi and Matthews finishing in 3 minutes 18.29.
All eight athletes showed their togetherness after the race and were quick to thank Head Coach Lee Johnston, Performance Director Chris Price and their support staff for their efforts throughout a demanding season.
"No one is more disappointed than us. This is our Olympics Games. We didn't come here not to win," added Cackett.
"This season we've had probably the best season in bobsleigh for a decade. We've had medals, high placings, fantastic pushes and crews doing well after a horrible summer. The team have bonded together and there are positives to take out of this. We know we can beat these guys because we have."
"We've had a tough week but all eight of us are together. We did what we could today: it wasn't enough, but it's what we had," said Fearon.
"We gave everything we had inside. We're all fighters. We come from different sports and we've all had things not go our way in the past. We pulled together. That's what we know to do.
"It's Brad's first Olympics, it's all of our crew's first Olympics bar me so I'm proud of the team."
Home favourite Yunjong Won shared silver with Germany's Nico Walther, with Switzerland's Rico Peter and Latvian Oskars Melbardis completing the top five.