4-man ends Whistler Worlds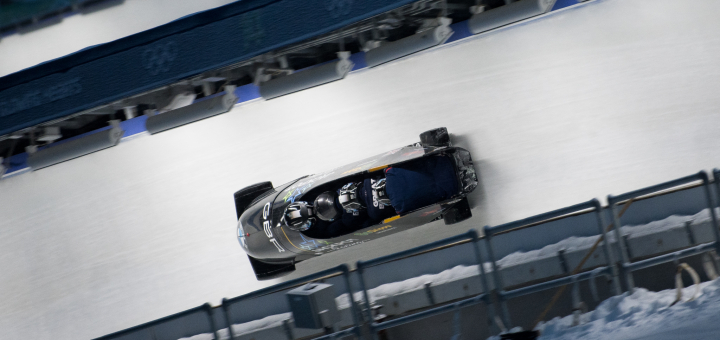 The 4-man bobsleigh brought the curtain down on the 2019 World Championships in Whistler in the early hours of Sunday morning.
The 10-day event had early featured 2-man and Women's bobsleigh, a team competition and both men's and women's skeleton before the 4-man race took place over the final two evenings of action.
Lamin Deen and Brad Hall piloted British sleds in a 23-strong field that had initially been anticipated to be even bigger before tricky track conditions a reduction from the more than 30 expected to race at the start of the week.
Hall again joined forces with Nick Gleeson a week after the pair equalled the country's top 2-man World Championship finish for 53 years when they came joint fourth in a season's best showing.
Double Olympians Joel Fearon and Ben Simons completed Hall's crew, with Deen teaming up with Ryan Letts, Tremayne Gilling and Toby Olubi.
The British teams sat 12thand 15that the halfway mark on Saturday morning before Hall's crew finished 13thand Deen's 15thin the final standings.
Hall clocked a combined time of 3 minutes 23.66 seconds with a quickest run of 50.64 seconds, while Deen completed the four runs in 3 minutes 24.05.
Germany's Francesco Friedrich added the 4-man title to the 2-man crown he won last weekend, with Latvia's Oskars Kibermanis and home favourite Justin Kripps the other medalists once more.
British results at the 2019 World Championships
Men's 2-man Bobsleigh: Hall & Gleeson =4th
Women's Bobsleigh: McNeill & Douglas 12th
Team competition: Deas & Wyatt 5th in combined team with Austrian Bobsleigh
Men's Skeleton: Wyatt 12th; Rice 21st; Thomas 27th
Women's Skeleton: Smith 15th; Pittaway 16th
Men's 4-man Bobsleigh: Hall, Gleeson, Fearon & Simons 13th; Deen, Letts, Gilling & Olubi 15th