2-man best for Brad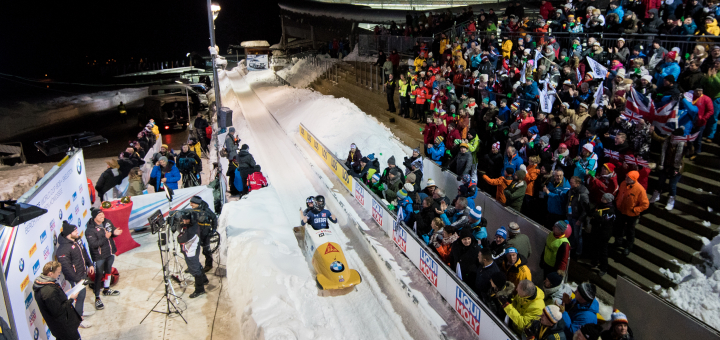 Brad Hall secured his best-ever World Cup 2-man result in Konigssee on Saturday.
Hall piloted the British sled to joint ninth in a 23-man field in Germany as he made the top 10 in a World Cup 2-man competition for the very first time.
The 27-year-old won 4-man bronze in Park City last November but his previous best result in the smaller discipline was 13th in Whistler in 2017 and Konigssee in 2016.
Hall and brakeman Nick Gleeson clocked 50.06 seconds to sit 11th at halfway, before going quicker in Run 2 to move up the standings. The British pair had produced impressive start times during last week's race in Altenberg and they built on that platform in Konigssee as they recorded the fourth best start in Run 1 and the joint third quickest in Run 2.
With the race also doubling up as the European Championships, Hall and Gleeson placed eighth in the continental competition after Canada's silver medalists Justin Kripps and Cameron Stones had been removed from the equation.
Francesco Friedrich took gold in both the World Cup and European Championships to make it four wins from four and extend his lead at the top of the IBSF rankings.
In the women's event, Mica McNeill and Montell Douglas finished sixth in the World Cup event and fifth in the European Championships.
They came within a whisker of matching the previous week's superb personal best in Altenberg as they ended eight hundredths of a second behind Austria's fourth-placed Katrin Beierl.
McNeill and Douglas clocked times of 51.34 and 51.43 seconds to finish just over half a second outside the medals. McNeill sits 10th in the World Cup standings having competed in one event less than her rivals after missing the season opener in Sigulda.
McNeill and Douglas were sixth on Saturday
In Sunday's 4-man race, Hall, Alan Toward, Gleeson and Ben Simons were 19th out of 23 sleds but there was reason for optimism in terms of their start times as they went seventh fastest first time around.
Friday's men's and women's skeleton races were both cancelled due to adverse weather conditions. Both sports now travel to Igls, Austria, with that race doubling as the European Championships for skeleton as a result of this week's cancellations.