Members First Feature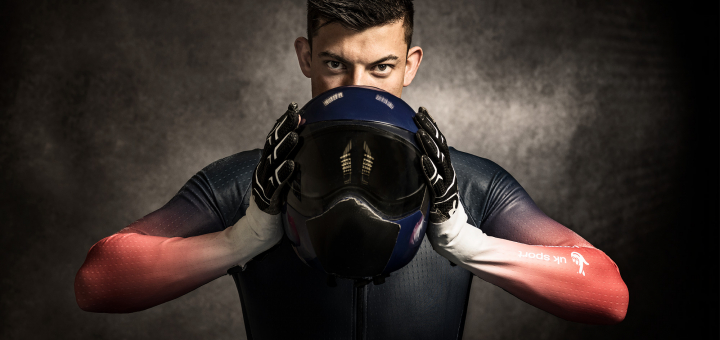 In our opening 'Members' First Feature', we speak to British Skeleton's Matt Weston about how last season went far better than expected; how he still feels like an underdog despite winning World Cup silver; and how he's making sure he's fully focussed on the here and now despite dreaming about what might lie ahead at the Beijing Olympic Winter Games.
Talk us through last season: from the outside looking in it, it seemed like a pretty special one with a World Cup silver medal and a host of other impressive results.
"I felt like there was quite a bit of pressure on me at the start of last season as I went straight into World Cup competition without any warm up races. It was the first time I'd started a season on World Cup - the season before I'd been racing Europa Cup and then been switched up to the top level at St Moritz and the World Championships later on in the season.
"But my performance in the first race in Sigulda really helped - it went really well and I finished fifth. That kind of set the tone for the rest of the season and what I felt like I could achieve. I really enjoyed trying to back that up in the weeks that followed and getting that silver medal in Igls was a massive boost. 
I learned a lot last season season: how to work well with my coaches; how to work best as a team; what works for me and what doesn't.
"Most people would go through that on the lower circuits but I was making my mistakes on World Cup. That took some getting used to but overall I was really pleased with how it went. And I'm just trying to keep that momentum going for next year now."
Just how memorable was that silver medal in Igls?
"It was an incredible feeling and it's not something I'll forget in a hurry. Igls is the track where I started my skeleton career so it was quite a fitting place to achieve my first World Cup medal. To finish just behind Martins (Dukurs), who hadn't lost there in about 10 years made it even more memorable. I was really pleased to be as close as I was to him. 
If you saw the IBSF track video of me afterwards, it was pretty obvious how happy I was straight away - I almost threw my sled off the track!
"It was the last race before Christmas and I really, really wanted something to take home as a little present for myself after finishing fourth the week before. I was only in third at that point but I knew I'd got a medal and that was amazing. And then when I actually jumped up a spot to get the silver, it was another unreal feeling. It was just like I'd felt coming off the track after my run all over again. It restarted that feeling of joy - I was really loving every second of that moment.
"Martins' put down a good run to take first but he came straight up to me gave me a lot of praise. That stuck with me and spurred me on a bit more. Chasing big names like him and being so close to them on my first full World Cup season was something I really enjoyed."
Matt Weston won World Cup silver in December
For those of us watching, it seems like you're a contender for the top six in every top-tier race you compete in but how quickly did you go from thinking, 'This is a massive step up' to 'this is where I belong'? 
"I do feel comfortable at this level but, being honest, I do still see myself as a bit of an outsider. I definitely don't feel like I've made it. I'm still trying to prove myself almost, but that's mainly for myself, I think. I've heard a lot of complimentary things from athletes and coaches saying I've done really well but, personally, I don't feel like I'm fully fitting in there just yet.
"That can be a good thing, though. Going into the World Champs this year, I tried to replicate the underdog feeling that I had the year before. Still having that mindset is probably a good thing for me.
The fact that I feel like I'm constantly chasing others and pushing myself to chase those guys rather than feeling that I need to keep myself where I am is definitely more productive. I think I can use that to my advantage going forward.
We're well into summer training now and there's obviously something pretty big on the horizon with the Beijing Olympics so how do you maintain your focus on the here and now and stop yourself from getting carried away with what could happen if you make the team for China?
"You have to find quite a balance, especially at the moment, when we're still a few months out from the Olympics. You kind of have to try and keep your focus on the day-to-day, rather than looking too far ahead. 
"Obviously, this is Olympic year and we do have to do some stuff which is a bit different, with extra sessions in terms of prepping to be ready for Beijing but, if you keep your eyes looking too far in the future, it can almost overwhelm you because it's the Olympic Games and it's a childhood dream.
So, I'm quite conscious of keeping a balance and of taking every day as it comes and just trying to do the best I can do on that individual day. I know that all those days put together will, hopefully, result in me getting to Beijing and then performing well if I get there.
"The coaches help with that, too. They help us keep that immediate focus but they make sure we're aware of what we're working towards, too. It's a big season but I'm definitely not getting lost in the significance of it all.
"And I think it's important to be able to switch off as well. Friends and family help a lot and so does walking the dog. It's just something completely outside of skeleton. I think you really need that. 
"I quite like distracting myself by going to play golf as much as I can, too. It's quite a good one to just walk around the course and clear the mind as well as help the body sort of repair. I think that really helps. 
"I'm horrendous at it, but I do enjoy it! I can hit it but I wouldn't say I'm any good!
A lot of people would say that golf isn't a lot of fun because it can be frustrating but I like the fact that it's fine margins. It's completely different to skeleton as a sport so I'm not thinking about skeleton while I'm playing but it's definitely similar to skeleton in that kind of mindset. The main thing for me is that you have to stay calm and relaxed and focused, otherwise it'll go even worse. If you start getting frustrated and try and force the results, it gets worse because you end up being too tense.
If you relax and go through your processes, the raw results tend to come. I'm not saying I always do that when it comes to golf, because sometimes you do just want to launch it, but that's how I try and look at it."
Did you know?
Matt only made his GB debut in December 2019 but he's already won bronze, silver and gold on the Europa Cup circuit, finished fourth at the team event at back-to-back World Championships and been in the top five three times in seven World Cup races.
He'd already represented his country before starting his skeleton career - he's an England youth international in taekwondo.